Gary Michael Houston Speaks On Newest Wild Family Fight With Bobbi Kris & Husband Nick Gordon
Mar 05 | by Natasha
So apparently, a fight went down at a hotel in Atlanta during Rayah (Pat's daughter) 16th birthday party. And it involved 27-year-old Gary Michael Houston allegedly beating down Bobbi Kris' husband Nick Gordon.
After the alleged physical and twitter fight, Gary's speaking out....
What in the WORLD is going on now with those Houstons? All is not well, because Nick Gordon and Whitney's rapper nephew Gary Michael Houston (this is Whitney's brother Michael's son--pictured below) just had a knock down, drag out fight at a birthday party! And Nick didn't even get one lick in.
But get this...we're told this fight happened way back in DECEMBER, and Nick felt the need to bring up the drama...publicly...on Twitter YESTERDAY.
TMZ reports:
We're told Whitney's nephew, Gary Michael Houston, went nuclear on Bobbi Kristina's husband, Nick Gordon … allegedly SLAMMING him to the floor and pummeling his face -- accusing him of talking crap about the family.

Family sources tell us ... it all went down at a Sweet 16 party for Whitney's niece, Rayah. We're told it was a formal affair -- everyone in tuxes and long gowns -- but Nick showed up in a hoodie and knit cap and "lookin' like a thug."

Gary felt Gordon had insulted the family one too many times ... as soon as the party was over, he delivered the beat down. We're told it was a lopsided fight -- Nick didn't even get in a single punch.

Goodness! And over on Twitter yesterday, Nick and Gary were going at it and airing out all the dirty deeds:

Gary responded (read from bottom up):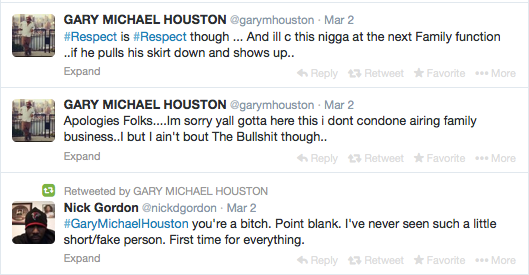 And Gary went in: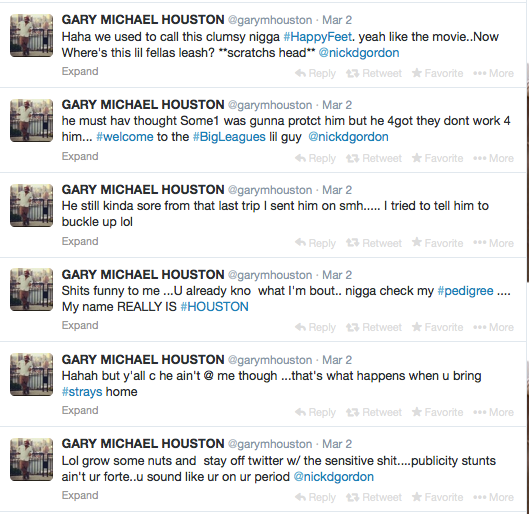 Well, at least this will get people paying attention to Gary's upcoming album The Collins LP dropping March 18th. (By the way, he shot his recent three videos at Whitney's old estate in Jersey).
Now that all this ish has played out publicly, Gary Michael Houston has spoken out via his publicist BJ Coleman. He says in a statement to TheYBF.com:
"I apologize to any family, friends, or fans who think I over reacted recently on Twitter. I typically do not engage in trivial drama on social media. I do not intend to further address family matters publicly. I love my cousin, and I wish her all the best."
Meanwhile, Bobbi Kris, is unfazed and hasn't even mentioned this. But a couple weeks ago, she did post this:
This nigga here ! Lmao this is one of my husbands personalities lmao I love you baby . @nickdgordon pic.twitter.com/9fH94DCUq2

— Bobbi Kristina H.G. (@REALbkBrown) February 22, 2014
Wait, is that Whitney's fur?!
Photos: Gary Michael Houston/Bobbi Kris' FB page