B*TCH STOLE MY LOOK: Rapper's Former Manager Accuses Rihanna Of STEALING "Jeweled Doobie" Look!
Nov 25 | by _YBF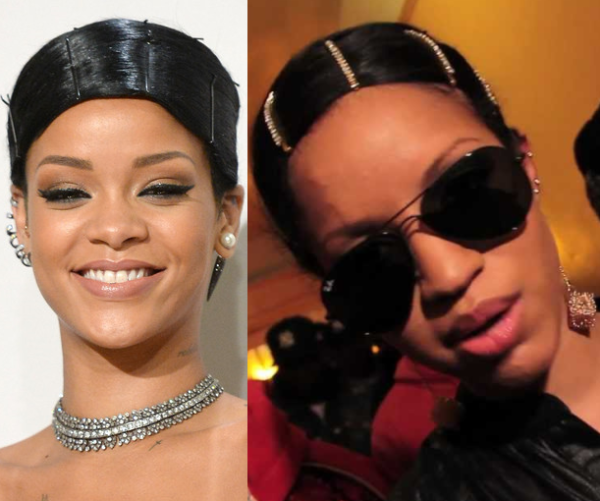 Rihanna's jeweled doobie has irked a few folks. But there's one person in particular who claims RiRi jacked another artist's swagger. Meet the lady who allegedly inspired the look inside....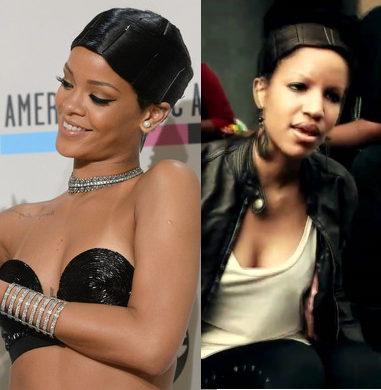 On social media, Rihanna's AMA hairdo caused quite the stir. And today, we received an interesting email from the former manager of a rapper who claims HER artist started this look. And Rihanna jacked it!
We were tipped off about Patwa, a Bronx born 2nd generation Jamaican American, who fused hip hop, reggae and culture into her music (much like Rihanna). As a part of her "look", Patwa embraced the doobie with jeweled pins to signify she was a Queen and this was her ghetto crown. But here's the thing...Patwa and her manager were told by Def Jam execs that her look was too hood and White America wouldn't embrace it. Though Patwa was offered a development (if she agreed to soften up her image), she walked away from the industry.
But now, former manager Trumaine Ferguson is speaking out about Rihanna and expressing outrage about what happens when someone with money, power and fame rips you off and you can't do anything about it.
During 2010 we began generating a buzz in the underground hip hop community. This lead to a couple of meeting with some big wigs at def jam, Geffen, Atlantic and yes Roc nation who manages Rihanna. While meeting with A&Rs with these labels we were continuously told that the imagery we were trying to brand was not "lady like" was "to street", "to hood" and "to ghetto" we were told that "white America would never get behind such ignorance". Ratchetness had yet to become an accepted house hold term. The image we were trying to run with was what Patwa knew from the streets which was the doobie wrap. She wore it proudly with jeweled pins to signify she was a Queen and this was her ghetto crown. Something that many females coming from where she came from could relate to. You know when you get that hair wrapped you feel like the Bomb You just got your hair did no one could tell you nothing.


And she told us about a chance encounter with Rihanna that may have inspired her AMA look:
"Fast forward to 11/24/13 and who do I see grace my flat screen while sitting in my modest one bedroom apartment wearing a doobie wrap with jeweled pins at the AMA's. Roc nations own RiRi. I honestly felt violated. You see during 2011 Patwa and I crossed paths with Rihanna at a Roc Nation event. Rihanna, who on that evening was wearing a hairstyle that she "borrowed" from Cassie, complimented the jeweled pin wrap said it looked nice and even inquired as to who did it? We of course were flattered out of our socks and felt almost validated. Two years later it appears middle America is ready and Rihanna really liked what she saw. By no means did we invent the doobie wrap or name. However prior to the AMA's no one had attempted to wear the doobie as a hairstyle in public. No one!!!!!! I just find it very insulting that something we brought to those people was too "ghetto". But now Rihanna can accept awards while proudly displaying it. I am really hurt by this and wanted to scream."
SMH.....we share her frustration. But for other reasons.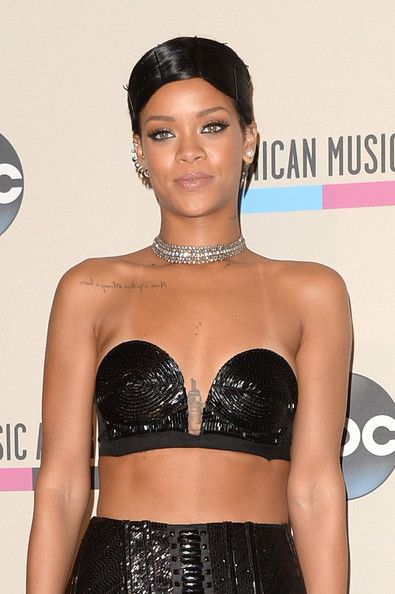 On some level, every artist's stylist/choreographer/image consultant was inspired by someone else. Unfortunately, those "inspirations" will never get the credit they deserve. It sucks.
But what could Rihanna have done differently? Given a shout out to the hood in the middle of her acceptance speech...and to the chick she saw years ago wearing it?
Watch Patwa's "Ain't No Sunshine" clip that "allegedly" inspired Rihanna....
The Randomness:
1. Kobe Bryant signs two-year extension with La Lakers. Story.
2. Chicago Bulls point guard Derrick Rose will miss the remainder of the 2013-14 season because of a torn medial meniscus in his right knee. Story.
Photos via Jason Merritt/Getty Images North America/Patwa