Chilli SPILLS DEETS On Usher BREAK-UP, Says "Confessions" WAS NOT About Her + TLC's Founder Penning Unnecessary "Tell-All"
Oct 21 | by _YBF
TLC singer Rozonda "Chilli" Thomas is spilling the deets on her breakup with pop star Usher. Read what she confessed about the split and get the deets on TLC's founder member Crystal Selene Jones and her upcoming TLC tell-all inside.
In an exclusive interview with US Magazine, TLC's Chilli spilled the deets on her public-breakup with Usher. Chilli debunked the rumor that Usher's 2004 Confessions album was about her (she never said he never cheated on her...just that the album wasn't about her) and revealed that the songs were REALLY about Jermaine Dupri's love life.
"We were together when he recorded that album. All of those songs on Confessions, that was about Jermaine Dupri's situation. Usher was just singing it. But people kind of bought into it, it was just the timing of our breakup when the album came out. So people assumed that album was about us, but it was not.

And Usher and I weren't oil and water. We broke up because I guess it was that time or whatever....he was that real love for me."
And about those cheating rumors...Chilli stayed mum on Usher's extracurricular activities, simply repeating that it was time to make a "move".
"In any relationship, even when it came to my relationship with Usher, when it was time to make a move, I had to do that. I don't care how much my heart was hurting, sometimes you're just supposed to be with people for a reason and it's not always a lifetime. Even if you want it to be, it just doesn't work out that way."
She also revealed:
"I'll always love him, forever, because he was my first adult love, a real love....we're cool, we're really cool. There's no hard feelings, nothing like that. It's all good."
Kinda love it.
In other TLC news......
Crystal Selene Jones, the founding member of TLC, announced on Twitter that she's penning her own tell-all book about the group and their earlier stages called TLC...My Story, The Awakening of A Shattered Dream.
In a series of tweets, she commented that her book is near completion and that she's excited about the VH1 movie.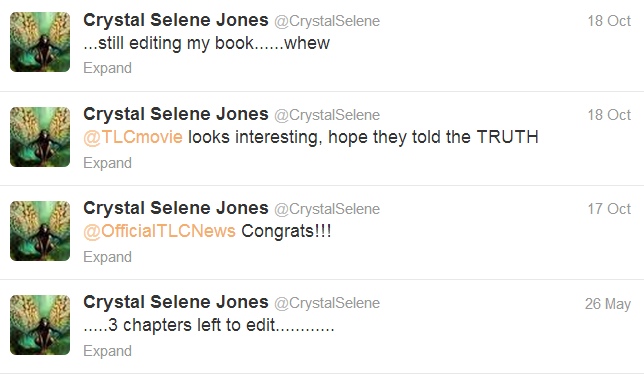 Just not sure it's really necessary at this point, but OK boo....
Crystal also shared an interesting "throwback" article discussing how she initially connected with Left Eye and T-Boz (who were originally nicknamed QT and Madame T).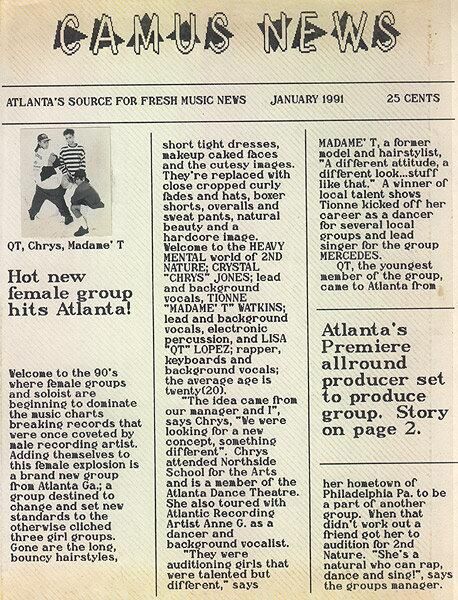 SIDEBAR:

We assume Pebbles--who Chilli & T-Boz have been blastign during their promo tour--is waiting until AFTER the movie airs to return to Twitter (and maybe the courtroom) with her "cross examination".
The VH1 movie CrazySexyCool: The TLC Story airs tonight at 8pmCT.
Photos via Wireimage/Crystal Jones Facebook & Twitter