GLADIATOR CHIC: Kerry Washington SLAYS November 2013 Cover of ESSENCE
Oct 02 | by Natasha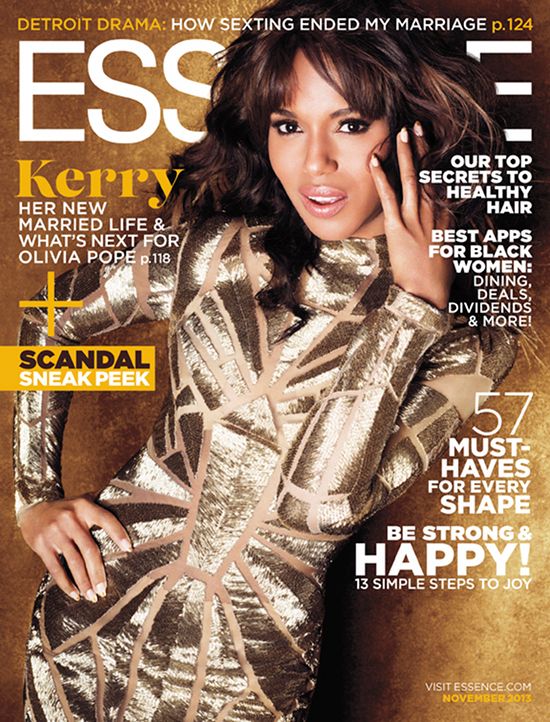 Kerry Washington is suited up in all gold for the new cover of ESSENCE Magazine, just in time for the Gladiators to turn up our "Scandal" Thursday nights!
Check out the hot cover inside...
This.Chick.Is.Perfection.
Kerry Washington is golden hot on the November 2013 issue of ESSENCE magazine styled by June Ambrose in a Rafael Cennamo dress. And it's all promo for her return to ABC this Thursday night for Season 3 of "Scandal".
The gorgeous newlywed talked about why her role as smarty pants Olivia Pope has more impact on America then we think. Not only are we preaching to & convincing the masses how amazing black women CAN be, Kerry Washington, Shonda Rhimes and the entire cast is showing it every week through the role of "Olivia Pope." And it's making everyone take notice in a way they never did before.
Kerry summed it up in her cover story saying:
"They are allowing an educated, intelligent, powerful, complicated, human, flawed, multidimensional Black woman into their homes. They're not walking past her on the street, they're not trying to avoid engaging her, they're not ignoring her and pretending she's somebody else's family and somebody else's problem…"
The Emmy-nominated fashionista (and all around fab chick) is helping to rake in 8.5 million self-professed Gladiators each week. And that is MAJOR.
Also in the mag, you find out in the Olivia vs. Kerry portion all the differences between Washington and the character she breathes life into each week.
ESSENCE's November issue hits newsstands on October 10th.