Rihanna Says She HATES Partying & Isn't Getting Sex On "Alan Carr" + Mariah & Nas REUNITE In The Studio
Sep 28 | by Natasha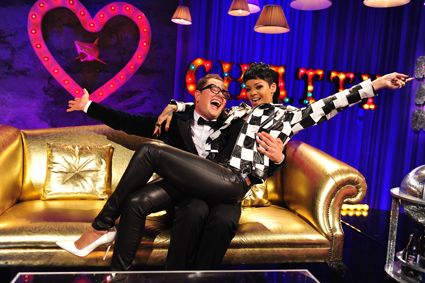 Rihanna celebrated English funnyman Alan Carr's 100th episode of "Chatty Man" recently. And last night, the episode aired with Rih getting extra candid about her mullet and her sex life. Check out the interview inside, plus Mariah & Nas back on one....
After Rihanna demanded the show's bartender to give her a shot of vodka (since he didn't know what a Duck Fart drink was), she talked about that damn mullet she's been rocking, why she made her River Island collection a bit raunchy, why she hates partying and what her sex life is really like.
Here's our fave highlights from the fun interview below:
On that mullet
"I love black hair on me. I love to cut it short and be edgy and have fun with it. This summer I put a tail in the back and it became more like a mullet. And I love it. It's a weave...it's attached."
On people thinking all she does is party
"I just try to be as honest with myself as possible. Be realistic with who I am. What I love to do and make e happy. And it's not always partying. As a matter of fact, recently I've become like a square. I hate partying. I've become so bored of it. I think it's because it's the same music all the time. Maybe we need some new DJs or something. But when I work hard, I play hard. I've worked hard over these last 8 years."
On her sex life and getting men while on tour
"I don't do any of that actually. I'm such a bootleg rockstar. I'm embarrassed to say that actually. It's pathetic. I'm a bit of a square recently. Don't feel bad for me."
Check out the full interview and her live performance (her vocals were actually on point this time) of "What Now?":
Meanwhile, Mariah is back in the studio with Nas. And we're freakin' happy about it.
The head Lamb posted the pic above with Nas & Jermaine Dupri simply saying, "This album.......!" Sounds like she's getting back to those previous days of JD banging out some hits for her for the upcoming The Art Of Letting Go album. Nice.
By the way, Nas hit up the ALMA Awards Hennessy afterparty last night looking sexy while posing it up with host Mario Lopez:
Yes....
Photos: Nas' IG, Mariah's IG, Sugarscape.com