DRAGGED: Rihanna POPS BACK At British Writer Liz Jones Who Calls Her A POISONOUS POP PRINCESS!
Jun 25 | by Natasha
We all know Rihanna plays no games when she pops back at folks who come for her. And today was no different after Rih Rih read what controversial British writer Liz Jones had to say about the strip club & gun loving pop star being a toxic role model.
Check out how Rihanna responded inside...
Daily Mail writer Liz Jones, who is also a former editor at Marie Claire magazine, wrote a scathing article about Rihanna's bad girl ways being irresponsible and toxic to her teeny bopper fans. And even if she may have had a few good points, the way she said them didn't do anything but make Rihanna riled up and ready to snatch some wiggery.
The writer takes issue, based on her article, with Rihanna parading her relationship with Chris Brown post-domestic violence, Rihanna's very sexualized pics of herself she posts on her social networks, her bad girl partying ways and more.
At one point in Liz's article yesterday (which you can read in full HERE), she said:
I wish she'd stop infecting our High Streets with her gun tattoos, her false nails and fake hair, her bogus bad-ass shenanigans that try to portray her as 'real', as 'street', as her own person, as strong and single-minded.
Cue up the royal dragging from Rih Rih. In between her Diamonds world tour stops, she posted homegirl's pic on her Instagram with THIS response: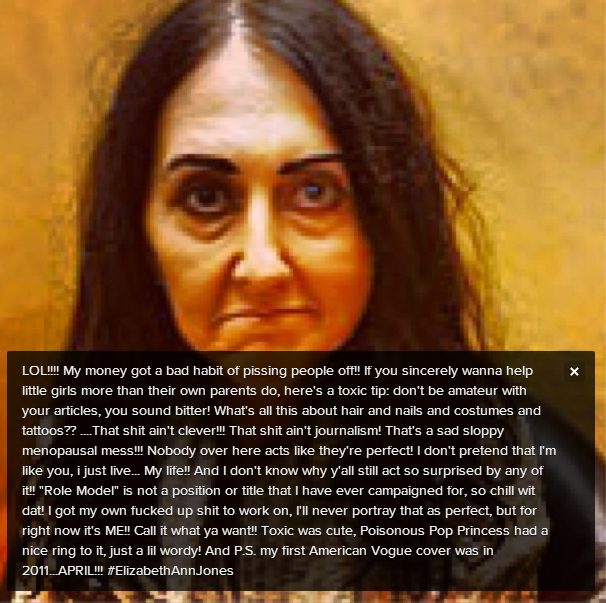 In case you couldn't see it properly:
LOL!!!! My money got a bad habit of pissing people off!! If you sincerely wanna help little girls more than their own parents do, here's a toxic tip: don't be amateur with your articles, you sound bitter! What's all this about hair and nails and costumes and tattoos?? ....That **** ain't clever!!! That **** ain't journalism! That's a sad sloppy menopausal mess!!! Nobody over here acts like they're perfect! I don't pretend that I'm like you, i just live... My life!! And I don't know why y'all still act so surprised by any of it!! "Role Model" is not a position or title that I have ever campaigned for, so chill wit dat! I got my own ****ed up **** to work on, I'll never portray that as perfect, but for right now it's ME!! Call it what ya want!! Toxic was cute, Poisonous Pop Princess had a nice ring to it, just a lil wordy! And P.S. my first American Vogue cover was in 2011...APRIL!!! #ElizabethAnnJones
As we all know, whether you want to be a role model or not, when you literally have over 10 million Twitter followers and almost the same number of Instagram and Facebook fans, you're going to be a role model....whether you like it or not. As the saying goes, 'Where much is given, much will be asked.' But does the Bajan bad gal have a point about everything else?
The Randomness:
1. Fat Joe may be sentenced to four months in prison due to not paying taxes on $1 million in income. STORY

Photos: Rihanna's Instagram