Ciara's "I'm Out" FEATURING Nicki Minaj + Christopher Wallace's DAUGHTER T'yanna LAUNCHES "Notoriuss" Clothing LINE
May 22 | by _YBF
Ciara's latest single, "I'm Out" featuring Nicki Minaj has been released. Listen to the new song inside and see gear from T'yanna Wallace's "Notoriuss" clothing line...
Following their "I'm Legit" collaboration, pop starlet Ciara has re-loaded with rapper Nicki Minaj for her latest song, "I'm Out." The new single, which follows "Body Party", will appear on the upcoming disc Ciara (July 9th).
The bass-heavy club banger featuring Ciara singing ditching her boyfriend and partying around town with her girlfriends. She spoke to MTV News about the rhyme Nicki laid for the track saying,
"The energy of the record is so dope, and it's really for the ladies, and Nicki she just killed the verse. She literally murdered it, like she got that throw-back, that thing that she does that's so special. She went in."
While Ciara preps for the album release, she revealed that she'll promote Ciara with a full tour.
Listen "I'm Out" here:
And in retail news....
T'yanna Wallace, the daughter of the late Notorius B.I.G. has launched a new clothing line in honor of her slain dad, "Notoriuss". The 19-year-old PENN State student told XXL that she is studying fashion and hopes to resurrect her father's Brooklyn Mint clothing line in the future.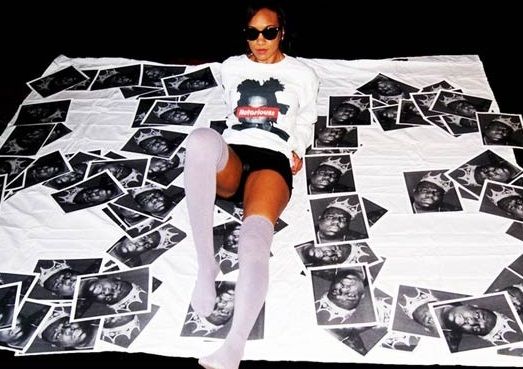 Congrats T'yanna.
Photos via Notoriuss Clothing