Trinidad James DISHES On His New "Straightened" Hair & Side Vs. Main Chicks + T.I.'s "Memories Back Then" VIDEO Ft. B.o.B., Kendrick Lamar & Kris Stephens + Beyonce's "The Mrs. Carter Show" Official Concert Video
Apr 23 | by _YBF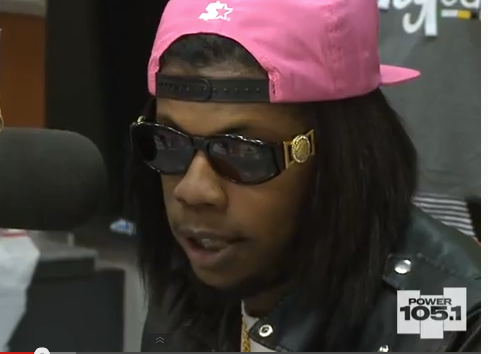 Trinidad James stopped by Power 105.1's "The Breakfast Club" where he dished about side chicks vs. main chicks. Listen to the interview inside and watch T.I.'s "Memories Back Then" video and a trailer for Beyonce's "The Mrs. Carter Show" tour.
"Females Welcomed" rapper Trinidad James chatted it up with "The Breakfast Club" this morning where the rapper debuted his brand new look. Nope, doesn't look like he's taken a shower yet. But he did switch up the hair. When asked why he switched from the afro, he said he was getting his hair cleaned and he felt good about it. And he's not worried about what other people think because, "I just do me all the time". Clearly.
Trinidad then talked about side chicks versus main chicks and revealed that he thinks all men have BOTH. He explained that side chicks are the ones that do things the "main" chick won't.
The hosts also commented about his teeth and joked that since he permed his hair and got a manicure (after signing with Def Jam and getting this new money), he's going to get his teeth fixed next. We can only hope...
Watch the interview here:
In new music videos....
T.I. has dropped a new visual for the song "Memories Back Then" featuring B.o.B., Kendrick Lamar and vocalist Kris Stephens. On the Phillyflyboy-directed video, each rapper takes to the streets of L.A. to reminiscence about a woman from his past. The track serves as the lead single for the upcoming Hustle Gang compilation mixtape 'G.D.O.D.' The Introduction'.
In other music news....
Beyonce has posted clips from her current world tour, "The Mrs. Carter Show" which is currently trekking across Europe. And for all you Bey stans, you'll also be able to hear her on the soundtrack to The Great Gatsby.