COUPLES WHO SCREAM TOGETHER: Cassie & Diddy Boo'd Up At Universal Studios
Feb 04 | by Natasha
Cassie & Diddy were on their coupled-up tip this weekend. Pics of them boo'd up at an amusement park with friends inside...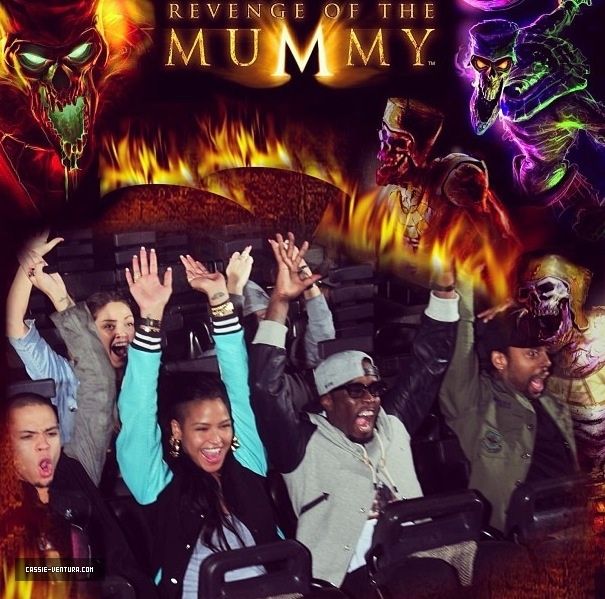 Weeeeee!
Diddy seems to have helped his boo Cassie get over her rumored anger with him for not spending the Holidays with her. The twosome skipped out on the New Orleans Superbowl festivities to hit up some scream-worthy rides at Universal Studios in L.A. on Saturday.
So why was Cassie allegedly mad in the first place? Mr. Combs spent the Holidays with his ex Kim Porter instead. Kim spent several days on Diddy's yacht in the south of France during Christmas & New Year's since her and Diddy's twin daughters--Jessie & D'Lila--were there as well.
But all seems fine and good as Cassie tweeted some serious shoe gifts that we're guessing were apology gifts. She helped him do some house shopping in Beverly Hills. And she's still flaunting that big diamond ring on her ring finger in the pic above from this weekend. Chick made sure that sparkler was in the picture.
Diddy tweeted on Saturday, "Lovin life."
And in case you missed it, Cassie dropped an "All Gold Everything" remix ("All Girls, All Gold") with her girls Trina & Lola Monroe recently. Gotta love it...
P.S. Is that you Evan Ross?
Pics: Twitter/CassieUniverse.com