Rihanna SMOKES OUT In CONTROVERSIAL Tour Rehearsal Photo, Parties On Her Break
Jan 24 | by _YBF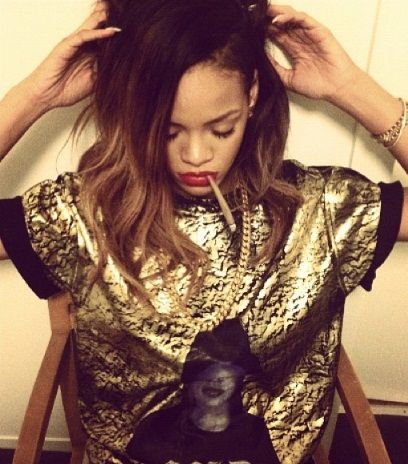 As she preps for her Diamonds World Tour, it's Rihanna's backstage antics (smoking blunts and Chris Brown collaborations) that have folks scratching their heads. See her latest controversial pic inside.....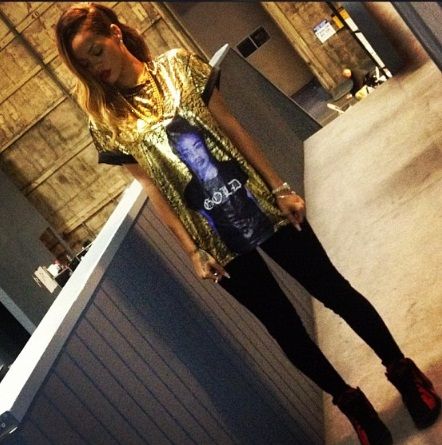 Hard-working pop starlet Rihanna is set to trek around the world once again for her Diamonds World Tour following her recent "777" trek around the globe. But it's what Rihanna does off-stage that seems to keep the public intrigued and sometimes offended. FOlks posted to her Instagram and around the net that she should chill out on all the smoking...especially during tour. And on a side note, we all know she wants to do everything she can to make that voice sound right.
So the "Pour It Up" diva recently posted some BTS flicks from her Diamonds World tour rehearsal which included her smoking a blunt with the caption "You a real nigga, then phuck wit me!"
One of RiRi's most recent critics was Golden Globe winner and "Girls" director Lena Dunham who took her to task for rekindling a relationship with Chris Brown, all the "smoking" photos and how it may impact her female fans. She told Alec Baldwin's "Here's the Thing" podcast,
"It's an amazing thing and it's like, it's a platform that you have to take seriously. Which is why sometimes it's like I used to be really into Rihanna, that pop star, and then it's like again, I don't want to ever throw stones from my glass house, but I follow her on Instagram and I just think about how many little girls beyond what I could even comprehend are obsessed with Rihanna

"She's talented. And then she gets back together with Chris Brown and posts a million pictures of them smoking marijuana together on a bed…And it cracks my heart in half in a way that makes me feel like I'm 95 years old."
But we all know outside opinions will do very little to deter Rihanna's behavior....because she's so Unapologetic.
In other Rih Rih news, one of the latest dates added to the Diamonds World Tour lineup with A$AP Rocky is an appearance at Revel's Ovation Hall on April 26, 2013. The exclusive presale begins Thursday January 24 at 10 a.m. and ends Thursday, January 24 at 11:59 p.m. EDT.
She posted to Instagram, "Diamonds World Tour. It's approaching so quickly, and I'm hype az shit! Big ups to my niggaz who got tickets, you're epic for that!!! #shinebrightbitch"
BONUS:
Last night, apparently on a break from practicing for the tour, Rihanna was spotted leaving hot spot Hyde on the Sunset Strip in Hollywood.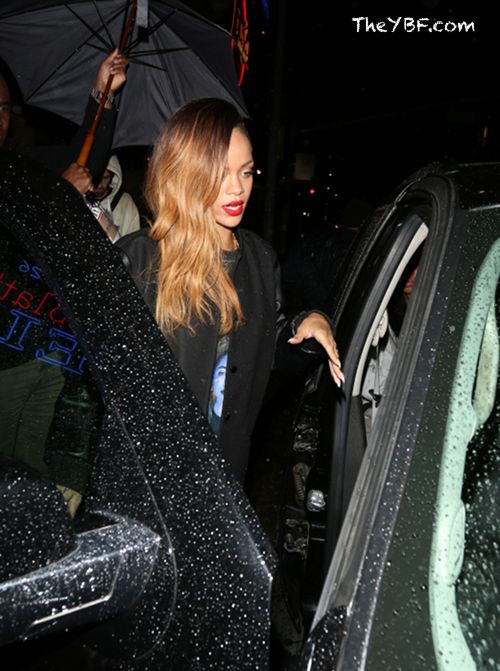 She was shielded from the rain by a team of handlers. She wore her Shawn Kemp Reeboks and said, "What's the issue?"

And....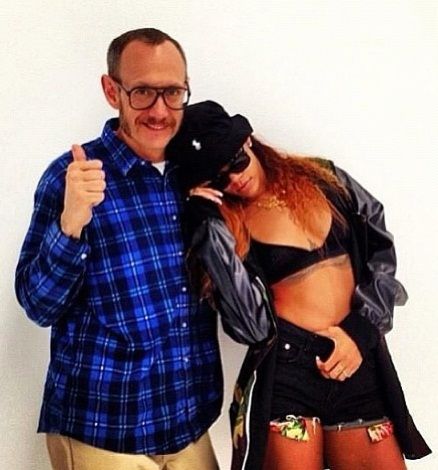 She also shared a photo with her favorite photographer Terry Richardson as they were doing a mystery shoot. Wonder which magazine cover is next....
Photos via PCN/Instagram