DRAMA: Carmelo Anthony Tries To Fight Kevin Garnett DURING & AFTER The Game...Over LaLa? + LaLa Makes Courtside Appearance
Jan 08 | by Natasha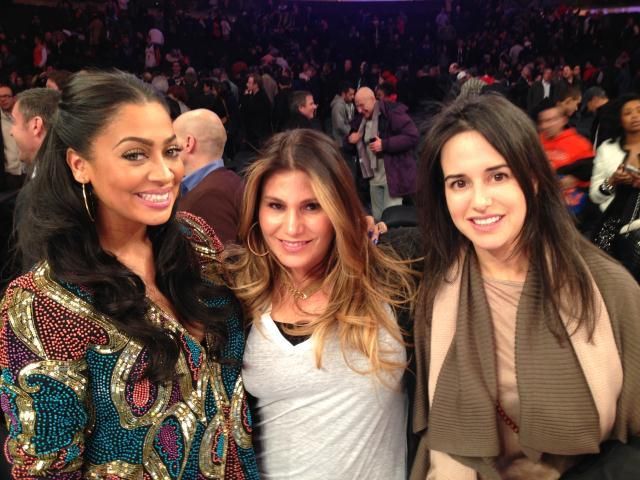 It's been a while since we've seen LaLa Anthony courtside at her man's game, or with her man at all. So when she popped up at the Knicks vs. Celtics game last night, it was just in time to calm Carmelo down...because he and Kevin Garnett were on the verge of duking it out!
Deets inside....
So the Celtics vs. Knicks game last night at Madison Square Garden was all kinds of foolery. Fightin' words allegedly were said, and Carmelo Anthony and Kevin Garnett got hit with double technical thanks to all their sh*t talking to each other.
During the game, the two were a split second away from duking it out on the court. And we all know neither of them are strangers to stomping somebody down on the court.
The close game led to some heated exchanges between the two that their teammates and refs constantly tried to break up. At one point you could see Garnett tell 'Melo "F*ck you" and Melo calling Kevin a "p*ssy".
And it didn't stop there. Melo decided to take that ish outside and literally waited for Kevin outside the Celtics bus! Dude had on his Timbs and skully and all....dude was READY. His coach and other folks had to try to calm him down before the Celtics walked out there. Peep the vid below:
Now, word has it (the unconfirmed Twitter gods say) that Kevin said some extreme fightin' words to Carmelo while they were on the court. Supposedly he told the Knicks baller, "Your wife tastes like Honey Nut Cheerios."
LaLa was at the game, sitting courtside, in a Virgos Lounge blazer, with her girl Loren Ridinger (pictured above).
Now....who knows what home girl actually tastes like. Or if this was actually said. But y'all know what words like that mean when a man tells another man what HIS wife tastes like. Kev ain't even right for (allegedly) alluding to smashing LaLa. Some attacks are just off limits. But maybe that's what had Melo waiting by his bus.
Feels like high school all over again. But we're waiting on the confirmation about that Cheerios statement with our thumbs twiddling. Because we already know what's coming next if that ish was really said....