Ice-T & Coco ADDRESS Cheating Rumors & Suspect Pics...Ice BLASTS CoCo Over Pics With Fan
Dec 08 | by Natasha
Never thought we'd see the day when Ice-T goes IN on his wife he seems to love so much...especially not on Twitter. Well, we're not that surprised actually. Check out how Ice-T had to put CoCo in check over some suspect pics she took with a fan, and CoCo's response inside...
So...las week, a few pics hit the net of CoCo posing provocatively at a club with another male. Some folks (including us) didn't entertain the pics since CoCo has been WELL known to snap sexy & inappropriate pics with both her male & female fans. And it's simply that--pics with a fan, not CoCo "cheating" with the person in the pic.
She's even taken over-the-top pics with her husband right next to her sometimes. And, of course, Ice & CoCo are no strangers to their own pornographic style pics they take with each other. Whether it's Halloween or not.
But apparently, Ice was in his feelings after this latest set of pics hit the net. CoCo and the random male fan could be seen canoodling, but clearly just playing it up for the cameras. A certain site created a story that this was CoCo's new man she was cheating on Ice with. Of course, this is false. But the pics are indeed real. Ice tweeted that CoCo was told the man was a friend of Ice's...but he actually wasn't. He was just a fan following her around to her numerous shows she's been doing out in Vegas at Planet Hollywood.
His pissy rant, which is now deleted, is below: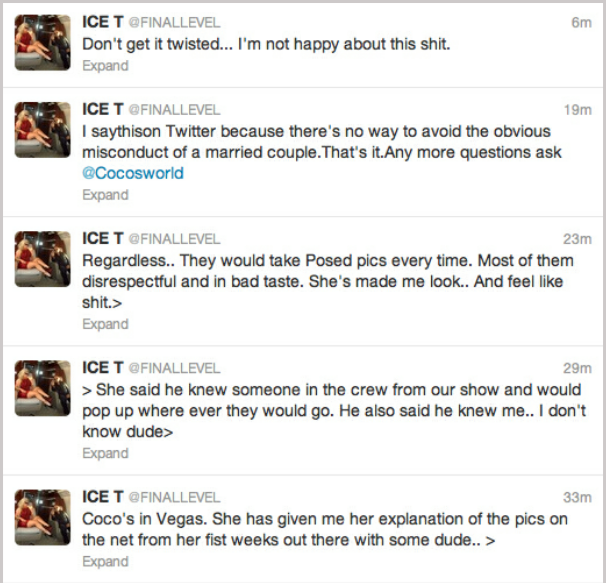 Is he mad though? Confusing since this is far from the first time CoCo has been seen doing this. I mean, the chick shows her ass every week to strangers on Twitter for Thong Thursdays...and he proudly praises her for it. For years, he's seemed to put her on a pedestal for her sexed up image and takes pride in folks being able to see all of her silicone body parts. So why get mad now?
CoCo's response today:
Woke up to people in a panic about some pics,please guys I'm happily married,sometimes fans & friends take silly pics.Its harmless. #RELAX

Ice is right,the pics I took with this man were in poor taste & I disrespected my husband however the pics were the only thing that happened .... I feel so sad,the bottom line is I love Ice & I can understand why he's upset theres no excuse for my actions.I'm so sorry baby & to everyone
If you watch their show "Ice Love CoCo" (which we love by the way), you'll remember that Ice once revealed he and CoCo have NEVER spent more than 1 day apart in their 7+ years of marriage. They even share the same cell phone because they're always together. The time she had to spend a few days in Arizona helping her sister deliver her baby was almost tortuous for him. So maybe he's feeling some kind of way about CoCo being gone for WEEKS doing this show run of hers.
Still, you can't praise your wife throughout your entire marriage for playing the Pimp & Ho game with you whenever you like, then get in your feelings when she doesn't know the difference between appropriate and inappropriate pics for a married woman. Seems a bit counterproductive. But what do we know?
Play on pimps...