MORE DETAILS REVEALED In The Jovan Belcher MURDER-SUICIDE
Dec 04 | by _YBF
More shocking details have emerged in the Jovan Belcher murder/suicide including what will happen to his three-month-old daughter and what an allegedly drunken Jovan was doing the night before he murdered his girlfriend. Get more infomation inside.....
Though family members previously said that Jovan Belcher and his girlfriend Kasandra Perkins had a happy relationship, more details have emerged, painting a very different picture of the couple's rocky times.
As police are still trying to determine a motive for the murder-suicide, it's been revealed by sources close tot he couple that the couple had been arguing for months, and the Kansas City Chiefs team had been "bending over backward" to assist the couple with counseling.
Kasandra's cousin, Angela Perkins, said Jovan's constant training and time away from home put a strain on the relationship. "There was just a lot going on. She was stressed. He was stressed. It just started to go bad, but they had the child, and they were trying to make it work."
But as the case unfolds, it's now been revealed that Jovan spent the night before the murder dining with another woman. The NY Post reports that the professional footballer had a "boozy" dinner in downtown Kansas City with a woman named Brittni Glass. As far as what went on during dinner, Brittni told the NY Post, "I was with him that night, that's it."
After the dinner, Jovan apparently returned home and had an argument with Kasandra around 1am (we told you earlier that Kasandra had spent the evening at a Trey Songz concert and Jovan was upset about her late arrival).
An angered Jovan left the house following the argument and drove to Brittni's apartment where he seems to have fallen asleep in his car. Around 2:30am, he was awakened by the police (who received a phone about a man sleeping in a parked car) and he told them he was waiting on a friend. The police had him call Brittny and "someone" let him into the building.
Later, two neighbors saw him knocking on Brittny's door (which oddly went unanswered) and they offered him the opportunity to sleep on one of their couches because he was in no condition to drive. He asked to be awakened at 6:30am because he had a team meeting to get to.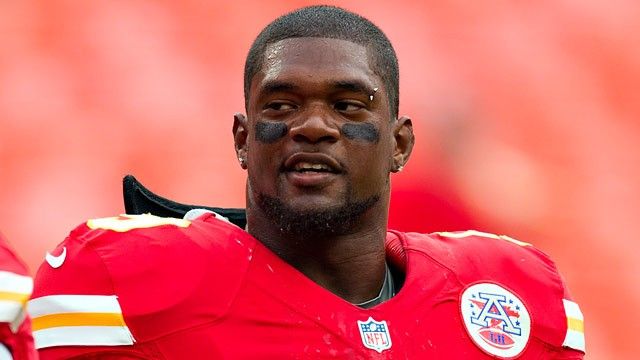 Jovan left Brittni's building around 6:45am and made the 10-minute drive home where he later shot Kasandra during an argument that happened around 7am. From there, he made the short drive to Arrowhead Stadium.
Jovan reportedly told the Chief's General Manager Scott Piolo: "I did it. I killed her. I got to go. I can't be here." And before killing himself, he told Chiefs coach Romeo Crennel, "I have to do this." He then knelt behind a vehicle, made the sign of the cross and shot himself in the head.
The Kansas City Star reports that Jovan's mother, Cheryl Shepherd, who witnessed her son shoot Kasandra, has temporary custody of the couple's 3-month-old Zoey Michelle Belcher.
Both family's released statements about the tragic events. The Perkins family said,
"On behalf of the Perkins Family, we appreciate the outpouring of love and concern for our Kassandra 'Kasi' Perkins. Our hearts are truly broken for Kasi was a beloved daughter, granddaughter, sister, mother, cousin and friend.

Please keep us in your hearts and prayers as well as the Belcher family for two lives were loss. Again we thank you for your support, our wish is for Kasi to be remembered for the love she shared with us all. Kasi will be truly missed!"
And the Belcher family said, "As a family, no words can express the sorrow we feel over the loss of Jovan and Kasandra."