BACK HOME: QB Robert Griffin III & His Fiancée Becky Head Back To Baylor University
Dec 04 | by Natasha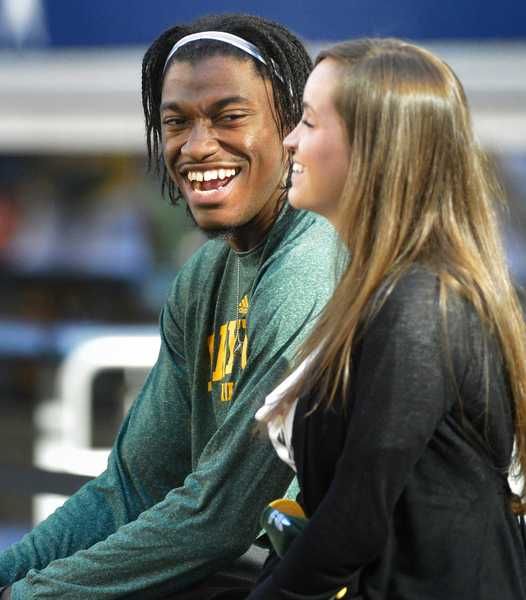 Washington Redskins QB and one of the NFL's biggest stars, Robert Griffin III, made a trip back to his college home of Baylor University with his college sweetheart fiancée Rebecca Liddicoat. Check out RG3 and Becky chillin' back in Texas inside...
Well isn't that...precious. 22-year-old NFL's star rookie RG3 made a trip back to Waco, TX, where he first established his football stardom, to cheer on his former team the Baylor Bears as they took on Texas Tech last Saturday. He was spotted chillin' with Becky and catching up with some of his former teammates who had just beat the Tech Raiders in overtime to now become Bowl-eligible: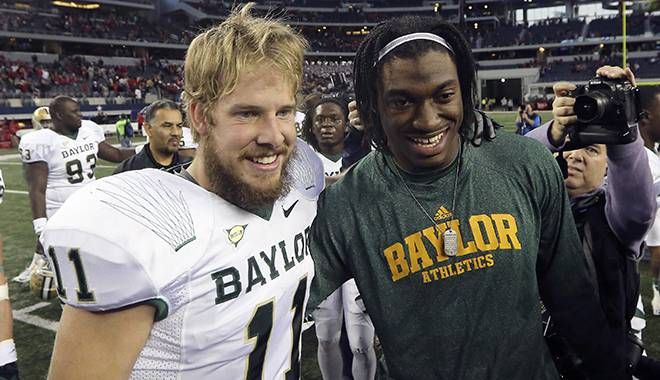 No wedding date is set (at least not publicly) for RG3 and Becky, but his team just beat the NY Giants last night.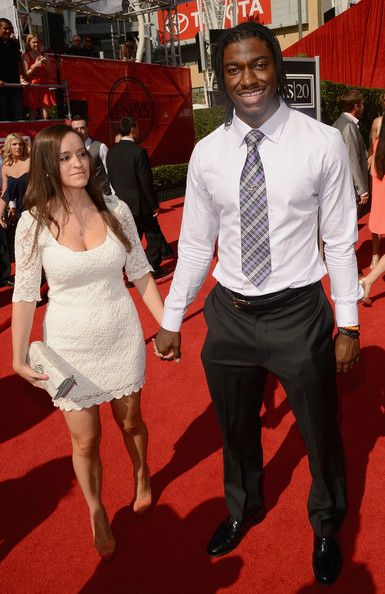 As for the couple's (pictured above at this year's ESPY Awards) proposal story, here's what his mom told the Washington Times:
"As they were walking in, [Robert] started singing the song. I had set up candles – battery-operated candles; I didn't want to burn the building down – right here in the middle. Her mom and her dad and her two sisters and my family – my husband and [RG3's] two sisters – were all standing in a circle with a candle in our hand.

"He walked her to the circle. She couldn't see. We had it dark in here. When they got close to the BU [midfield logo], we all hit our candles and it came on. She was like, 'What is this?' And he got on one knee.

"The funny thing about it is he came in the building and he said, 'Rebecca, wait a minute. I've got to use the bathroom.' And my husband was in the bathroom with the ring. He gave him the ring, and it was a fun time."

"It wasn't initially supposed to be in here," Mrs. Griffin said. "He showed me a tree that they used to go sit under and talk, but it stormed that night. He was like, 'Mom, you've got to come up with a backup plan for me.' And you know that military kicked in. We always have to have a backup plan.

"I happened to be driving past here, and I saw that the facility lights were on. The whole time I was driving around going, 'God, please give me a plan.' I came in here and they were showing recruits the facility.

"The coach told me, he said, 'Mrs. Griffin, what's going on?' I said, 'I think I need to use the facility,' but I couldn't tell him what it was for. I said, 'I need to use the facility for a few minutes. Is that OK?' He said, 'Well, as long as you finish by the time we get back in here.' I ran around him like a little chicken with my head cut off, putting everything together."

"He was like, 'Mom, Mom, we're coming!' My husband was like, 'Honey, they're on their way.' But it all worked out. We got in here. He sung the song. He got on his knees. We all were crying. She was crying.
We wish Becky, Robert & his struggle braids well...