Rihanna SMOKES ONE...In Bed + Nabs 1st U.S. #1 Album With UNAPOLOGETIC
Nov 27 | by Natasha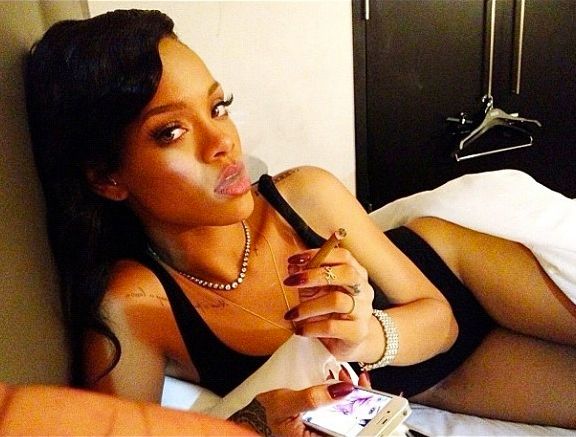 Rihanna's been in bed under the weather for the past few days--sending out tweets to her fans about how she feels horrible. But chick still managed to look sexy in a bra & panties snap today. Plus, she's got good news about her Unapologetic album to cheer her up...
Rih posted a pic (no word on if it's new or a throwback like a member of her Navy mentioned) to her instagram today featuring her in black panties and a black bra...chillin' in bed smoking. But last night was a different story when she tweeted a pic of the bedroom saying:
From dusk til dusk.... Still can't get outta bed! Hating everything right now
And the pop chick has much to celebrate. She excitedly tweeted that she just found out her 7th studio album, Unapologetic, reached #1 status in the U.S.:
Wait!!!!! What the FUCK?!!!! #UNAPOLOGETIC just debuted at #1 in AMERICA!!!!! My first number 1 album there!!! Thank you Navy, u deserve it

I'm legit crying like a pussy right now!! #UNAPOLOGETIC
Looks like the 777 tour hoopla and the frenzy surrounding her reuniting with Chris Brown all paid off...
Congrats!