SORRY Y'ALL: Rihanna Wraps Up Whirlwind Publicity Tour & Apologizes To Media & Fans For 7-7-7 FIASCO
Nov 20 | by Natasha
As Rihanna wraps up her 7-7-7 tour in Manhattan tonight, it's not ending without controversy. Check out how the Unapologetic diva actually apologizes to the media and fans accompanying her on tour over lack of access....
As we previously reported, folks aboard Rihanna's private 777 jet for her 7-7-7 tour have been pissy all week with Rih Rih and her people. The 150+ media and fans complained about having barely any access to Rihanna during this entire 7-day, 7-country publicity tour for her Unapologetic album, outside of catching a glimpse of her at baggage claim and drinks the first day. Not to mention their lack of sleep and food and non conducive living conditions, according to several on-site media folks.
At one point, a male Aussie media person streaked naked on the plane after complaining of delirium and long hours of wait time on tarmacs and no food or sleep. People stated it was a mutiny on board and chanted "Just One Quote" and put out fake "Missing: Rihanna" flyers. And it wasn't the dream trip everyone on board thought it would be...it was actually a nightmare some say.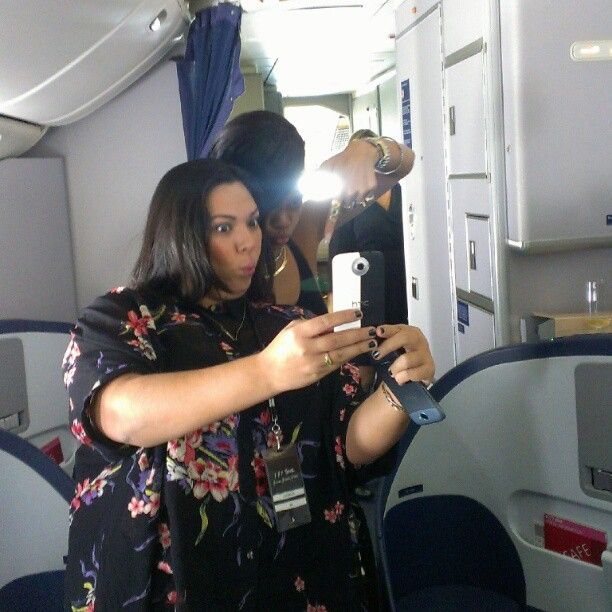 So Rih took to the PA system today, from her luxe first class seat, as they jetted back to the states from overseas, to apologize for lack of access to her:
"I know you guys got barely any dirt. …But I had to be good. I still sound like sh--."

"I had to preserve my health. Normally, I'd be back here popping bottles with y'all," she said. "I had to preserve my voice. I was worried about my body more than partying on the plane, so I had to just sleep whenever I could. I hope you guys had as much fun as I did."

"It's impossible to spend time with everybody, and I'm sorry I didn't. But this was excellent and I would definitely do it again."
Well folks on board--who dubbed the trip Occupy 777--can look at the bright side. They've got new stamps in their passports...for free. Well, in exchange for listening to Rihanna sing every night.
You can also check out her last stop that went down earlier today in NYC at Webster Hall and then Best Buy. Instead of performing like she did in every other city, she hit the stage to pass out signed cds of her album that dropped today. And did a Q&A session: