Frank Ocean DISCUSSES Sexuality And "Coming Out" In "GQ" + Nicki Minaj Hits "GMA", Talks RESPECTING Mariah Carey
Nov 20 | by _YBF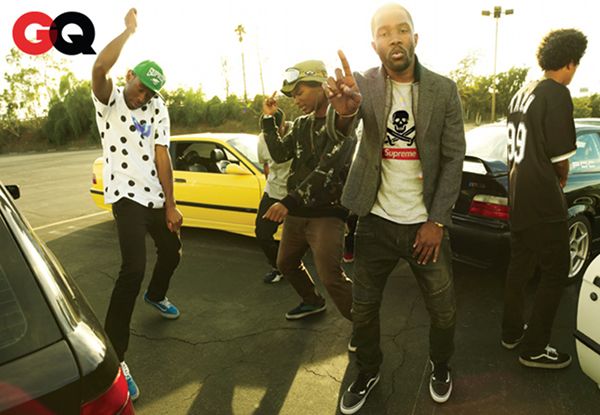 Frank Ocean opens up about "coming out" and his sexuality in the GQ's "Men Of The Year" issue. Find out what he said inside and see Nicki Minaj on "GMA" dishing on "American Idol" and her admiration for Mariah Carey.
In the latest issue of GQ magazine, Frank Ocean talks to the magazine about his childhood, his sexuality and his decision to "come out" in such a big way. Also, he and his Odd Future friends model the latest sport coats for the season.
Growing up, he revealed that he hasn't spoken to or seen his father since he was 6, and his grandfather (a recovering drug addict) served as his paternal role model. He described him as a quiet man who spoke very little and always seem to have a lot on his mind.
He credits his hard-working mom with inspiring his own work ethic. He said beecause she wanted to become middle class, she worked and went to school (gaining a master's degree from University of New Orleans) and took Frank to all of her classes.
And when it comes to sex and sexuality, Frank opens up without revealing too much. He doesn't seem to believe in labels or putting himself in a box but is painfully aware that others will do this and it will impacts his sales. However, he seems comfortable about his choices and wants people to focus on his music and creative side....not who he's sleeping with.
Here are the highlights:
On why he decided to go public with his sexuality: "If I'm going to say this, I'm going to be better than all you pieces of shit. What you going to say now? You can't say, 'Oh, they're only listening to him because he said this.' No, they're listening to me because I'm gifted, and this project is brilliant."

On fears that his bisexuality would hurt his career: "I had those fears. In black music, we've got so many leaps and bounds to make with acceptance and tolerance in regard to that issue. It reflects something just ingrained, you know. When I was growing up, there was nobody in my family—not even my mother—who I could look to and be like, 'I know you've never said anything homophobic.' So, you know, you worry about people in the business who you've heard talk that way."

On the timing of his "coming out" letter: "Some people said, 'He's saying he fell in love with a guy for hype.' As if that's the best hype you can get in hip-hop or black music. So I knew that if I was going to say what I said, it had to be in concert with one of the most brilliant pieces of art that has come out in my generation."

On whether he considers himself bisexual: "I'll respectfully say that life is dynamic and comes along with dynamic experiences, and the same sentiment that I have towards genres of music, I have towards a lot of labels and boxes and shit. I'm in this business to be creative—I'll even diminish it and say to be a content provider. One of the pieces of content that I'm for fuck sure not giving is porn videos. I'm not a centerfold. I'm not trying to sell you sex. People should pay attention to that in the letter: I didn't need to label it for it to have impact."

On meeting Odd Future: "At 20 or 21, I had, I think, a couple hundred thousand dollars [from producing and songwriting], a nice car, a Beverly Hills apartment—and I was miserable. Because of the relationship in part and the heartbreak in part, and also just miserable because of like just carting that around. And here was this group of like-minded individuals whose irreverence made me revere. The do-it-yourself mentality of OF really rubbed off on me."
See Odd Future's photoshoot here: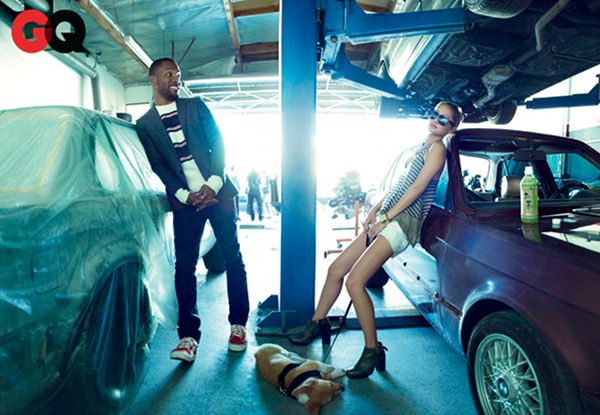 Earlier this morning...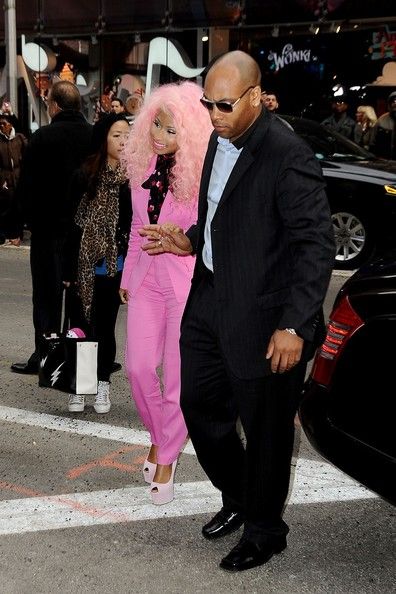 Nicki Minaj appeared on "GMA" where she discussed her two AMA wins and her upcoming role as a judge on "American Idol."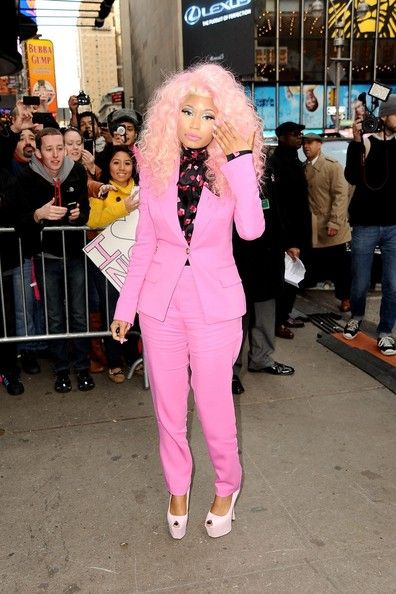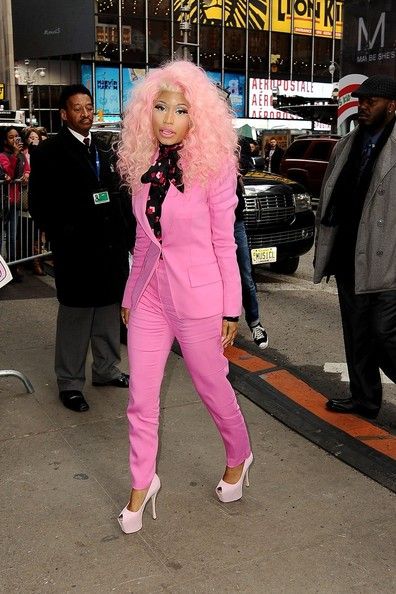 When asked about her relationship with fellow judge Mariah Carey, Nicki seemed reach to bury the hatchet saying,
"[Mariah's] been one of my favorite artists of all time since I can remember, so it's weird that everything kind of, was blown up like that. It didn't make me happy at all. I can't take away what she's done in my life and just in pop culture in general and just having one of the most amazing voices in the world.

Having said that, I'm an adult and we are passionate on the set and sometimes when you're a passionate woman, you know, sometimes it kind of ruffles other women's feathers, but I'm going to continue to be Nicki Minaj."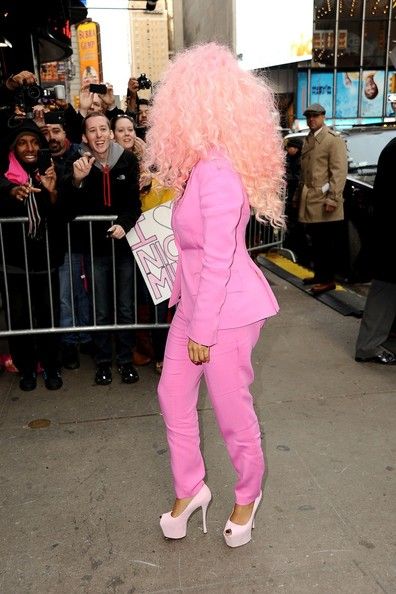 When asked about her role on "AI" and if she would be a tough judge, she said,
"I would consider myself an honest judge. That's all I'm doing. I've said before, I want them to leave with the truth. I feel like the truth has always fueled me to get better. So sometimes criticism helps in order for you to go and like perfect your craft. And I think that's what they want."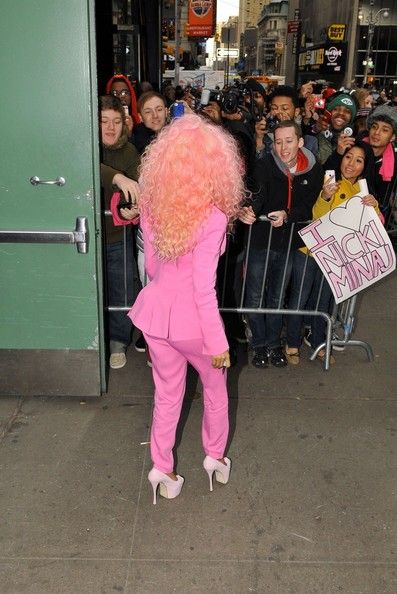 She added,
"They're not coming there for everyone to say, 'Yeah, you're great, you're great, you're great.' They're coming there for us to tell us how we feel and we represent the viewers at home."
The new season of "AI" kicks off on January 16. Watch the interview:
The Randomness:
1. Starz series "Boss" starring Kelsey Grammer, Sanaa Lathan, and T.I. is cancelled. Story.
Photos via GQ/INFPhoto