Rihanna FINISHES "Unapologetic" And TWEETS New Bikini Pic + Ciara SAYS Ex-Boyfriend 50 Cent Is "Afraid Of Love"
Nov 05 | by _YBF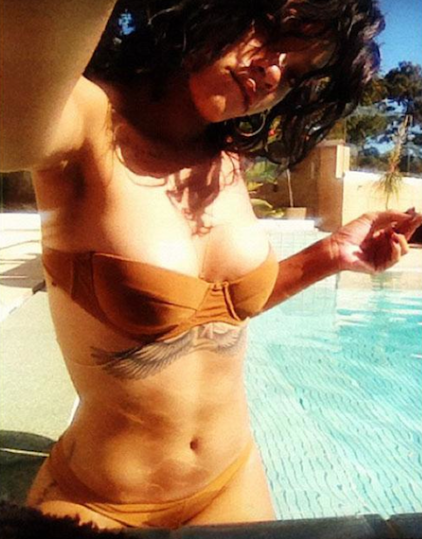 Rihanna has completed her Unapologetic album and posted a bikini photo to celebrate. Also, pop singer Ciara appeared on "The Rickey Smiley Morning Show" recently where she talked about past boyfriends Bow Wow and 50 Cent. Listen to the interview inside and see Rihanna's photo.
We've seen her heading in and out of studios a lot for the past few weeks and now Rihanna happily reports that she has completed her Unapologetic album. The singer tweeted, "We havin a celebration.... WE HAVE AN ALBUM!!! #UNAPOLOGETIC."
She accompanied the tweet with a shot of herself in an nude-like sexy strapless bikini while in a swimming pool. The album will be released on November 19.
In other music news....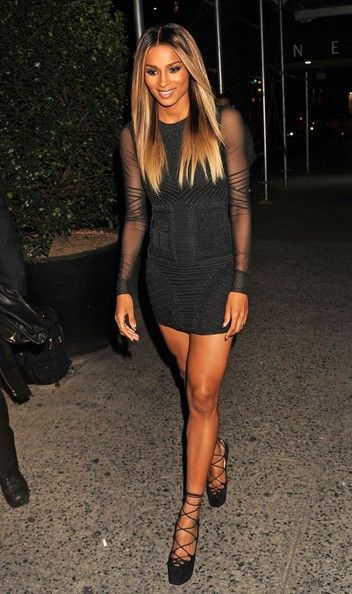 During a recent interview with "The Ricky Smiley Morning Show", "Sorry" singer Ciaragave up the goods (well, some) about some of the famous men shes's dated, like Bow Wow and 50 Cent.
She revealed that she remains friends with Bow Wow (though they haven't spoken in a long time) and is very close to his mother. And when it comes to 50 Cent (whom she called Boo Boo) she says he only likes to get involved with things he could contol (like business opportunites). She thinks when he is not in control, he gets afraid.
She said, "The one thing he is afriad of is love. And in that sense, he's afraid of me."
Hmmm.....Well if 50 Cent is still interested, all has has to do is say "Sorry" or some ish.
Listen Ciara's interview here:
And in other news about 50 Cent.....
We told you that 50 Cent and Floyd Mayweather had been feuding and it seemed like the bromance was over...but now we're not so sure. In a series of tweets, the rapper revealed that it was all a publicity stunt (created by Floyd) where he was asked to tweet about the boxer because no one had been paying him much attention since he was released from prison for domestic violence. Sounds like 50 is being his usual passive agressive self again.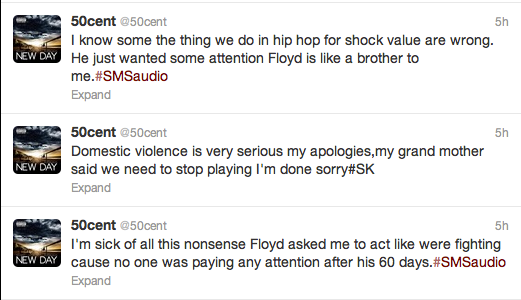 One thing's for sure...it did put both of them back in the headlines since no one seems to be checking for 50 Cent's music OR Floyd's boxing.