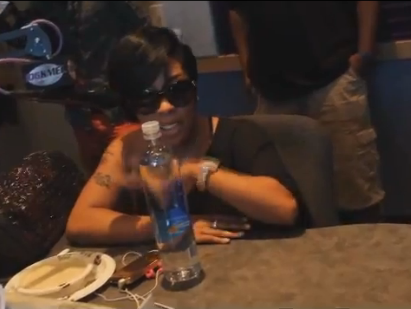 Reality star K. Michelle had plenty of dish for 106 KMEL listeners when she talked about her drama with Rasheeda, Tamar Braxton and if her butt is real. Deets inside.
We told you earlier about Rasheeda calling K. Michelle out for being a hypocrite, and on Friday, "L&HH ATL" star K Michelle stopped by 106 KMEL in San Francisco where she chatted it up with Sana G, Miss Kimmie & Big Von of KMEL-FM about hwat's been going on.
When asked about the rumors that she got into a physical altercation with Rasheeda at the "L&HH ATL" reunion, she said, "I didn't hit that girl." K. said she thinks Rasheeda needs a storyline so she can come back for season 2, so that explains the drama. She also said Rasheeda had initially been supportive of her but after the show began airing, she couldn't take the heat from her friends.
She also cleared up her beef with Tamar and said their Twitter spat was due to petty things like the "Muppet" comment and her saying she likes Toni better.
And is her booty real? Yes. Despite Memphitz's claims he bought her teeth, boobs and booty himself. She said, "I have a real butt but my titties are not real." The former FAMU student said in college she was called "ASS-Tastic." Hmmm...
Watch the videos here:
K. Michelle clears the air on the Love & Hip Hop Atlanta Reunion Drama with Rasheeda"
K. Michelle on Tamar Braxton Drama on "Love & Hip Hop Atlanta"
K. Michelle confirms her booty is real and no Fake Booty Injections: