Rihanna's stalker has paid his debt to society and says he sorry for scaring her. Get the deets inside and find out why Chad Johnson's college girlfriend wants to talk to Evelyn Lozada.
Zentil Vanzellas, who was convicted of stalking Rihanna back in 2010 was released from jail in June 2011 after serving 277 days of a 365 sentence. Though the court docs said he was a "credible threat" and RiRi had reason to fear him, Zentil now says he's "sorry."
He was put on 3 years probation and has been ordered to stay at least 500 yards away from Rihanna...for 10 years!!
He still lives in LA but RiRi travels so much, he won't likely bump into her, unless he's "waiting" for her at her home again like he did a few years ago in L.A.
In other news.........
The woman Chad Johnson "slapped" back in college has been trying to reach out to Evelyn Lozada. Sources close to the woman say she has reach out to Evelyn on Twitter and Facebook and thinks that if they have a sit-down conversation, it will give her some closure.
For now....Evelyn has not responded. In fact, Evelyn isn't responding to anyone as she has dropped out of all her scheduled public appearances for the next few months, which included book signings and club dates.
BONUS: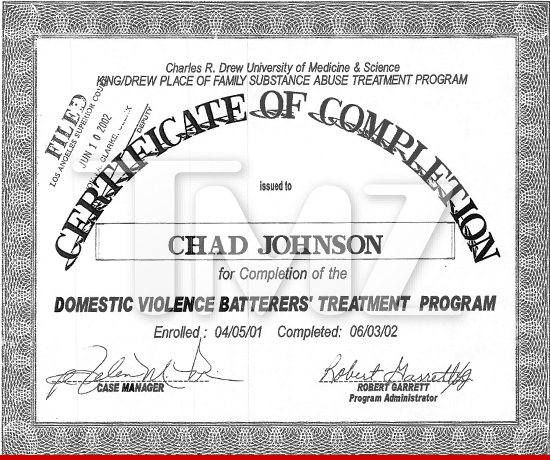 Here's Chad's certificate of completion from a domestic violence batterers' treatment program back in 2002. TMZ copped the status report from the program saying he "struggled initially with accepting the need to make lifestyle changes as well as minimizing his past behavior." Also, his "risk to re-offend appears low."
So much for that....