Only 1 came out on top during the Individual Women's Gymnastics All-Around competition. And it's 16-year-old Gabrielle Douglas. After America's newest sweetheart grabbed the gold at yesterday's competition--making history as the first black woman to do so--everyday folks, celebs and the media went berserk. In a fabulous way.
We've got celeb reactions to Gabby's amazing accomplishment inside...
The jaw-dropping talent and poise of Gabby Douglas has had everybody in tears and celebration all week. And celebs are no different. Check out the YBF world's reactions to Gabby taking the Gold:
Beyonce: "A huge congratulations to 16-year-old Olympic Gold Medalist Gabby Douglas - Wow - what a thrill to watch you take this Gold! I can tell you've been working hard for so long - enjoy this moment, it's yours. Thank you for inspiring all of us!"
Oprah: "OMG I'm so THRILLED for Gabby. Flowing happy tears!! #TeamUSA"
Nicki Minaj: *kisses to Gabby* what an amazing little firecracker. #USA #Olympics."
Lil Wayne: "Glad i lived to see what Gabby Douglas did in the Olympics. Icon."
Ciara: "Not only am I happy 4 U. I'm happy for your family 2! The sacrifices payed off! Keep inspiring Young Girls and Women like Me."
Octavia Spencer: "HUGE HUGE MOMENT!!! Own it! bringing home THE GOLD!"
Condoleeza Rice: "Proud of their team gold and thrilled for Gabby Douglas and her momentous accomplishment as the first African-American to win the individual all-around gymnastics title."
Magic Johnson: Congrats to @gabrielledoug on winning gold in women's all around! You are an inspiration to young girls everywhere, esp African Americans./Would love to host @gabrielledoug & her family at a @Dodgers game when she is back. #TeamUSA
Roland Martin: Right now, Gabby @gabrielledoug is receiving her gold medal. That smile is lighting up the arena! #teamUSA
Gabrielle Union: GOLDEN GIRL!!! I'm in awe :)
Sheila E.: DID U KNOW....If you rearrange GABBY'S last name DOUGLAS it reads USA Gold....#gabby
Jackée Harry: Wow! So Gabby Douglas ( @gabrielledoug )'s Last Name Unscrambled Is 'USA GOLD'! She Was #DestinedToWin! Congrats! #TeamUSA!
Sheryl Underwood: Congratulations to Gabby Douglas (@gabrielledoug)! Keep on smiling & inspiring. Olympic gold!
Whoopi Goldberg: Gabby Douglas made Olympic history that little girl blew the World away, TOTAL talent. Proud Proud Proud
Lisa Leslie: Well deserved! #GoldModel
Cheryl "Salt" James: Gabby Douglas!!! Yes... Take heed young ladies, U can win!!
Kerry Washington: WOW! WOW! WOW!
Raven-Symone`: Dreams do come true!! Congrats "all around"
Fellow Virginian Mike Vick: Salute to Gabrielle Douglas #757
Timbaland: yessir bigups to @gabrielledoug u did ur thang
Estelle: I JUST rewatched Gabby douglass. Yo. Goosebumps. Every single turn was sharp. Clean. Perfect. Omg!!! triple turns in the air?just..
Rick Ross: Congrats Gabby Douglas. Olympic #goldmedalist
Mary J Blige: Congratulations to @gabrielledoug On her 2 Olympic Gold Medals!!! I'm so inspired!!!
Dawn Richard: So happy for @gabrielledoug and her family. God bless them all. Breaking barriers and boundaries with poise and class. I love it!
Pharrell: Va Bch!! @gabrielledoug knew what she wanted at a young age and did it. She saw it her mind and nothing could distract her. She is OTHER. / You are the future, @gabrielledoug Such a shining example of focus, persistence, and execution. And a special thx to your rock of a family.
Monica: Congratulations Gabby Douglas on your Olympic Achievements. Gymnastics Team USA u made us all proud❤
President Obama via hand delivered message from the White House in addition to a call from Air Force One: "You just tore it up. I know how hard you worked to get there. Keep at it. Stay cool."
Dominique Dawes: In a tearful video, Dominique said she is thrilled to change her website from being the ONLY to being the FIRST...
Even Michael Phelps, the most decorated Olympian of all time--who celebrated his own history-making this week--took time from the pool to tweet: Congrats to @gabrielledoug last night!!! We watched from the pool!!! #USA."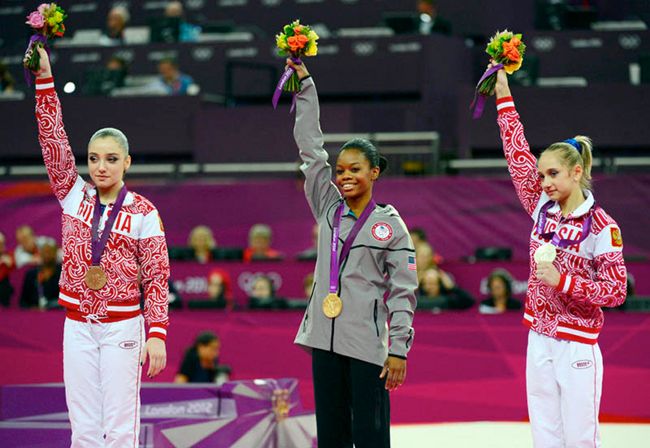 By the way, maybe getting 35.7 million viewers during last night's telecast of the Gymnastics & Swimming matches in prime-time explains why NBC won't show ish live. Still annoying though.
Gabby, whose Twitter account doubled from 200K to 400K in just days, tweeted recently: "WOW such an AMAZING experience! Thank you all for your support, love and prayers love you all!!! #oncloud9 <3.....Let all that I am praise the LORD; may I never forget the good things he does for me. "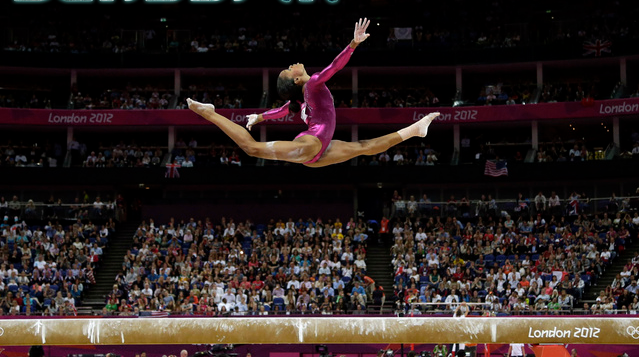 And here at TheYBF.com, we couldn't be prouder. THIS is the definition of a YBF chick.