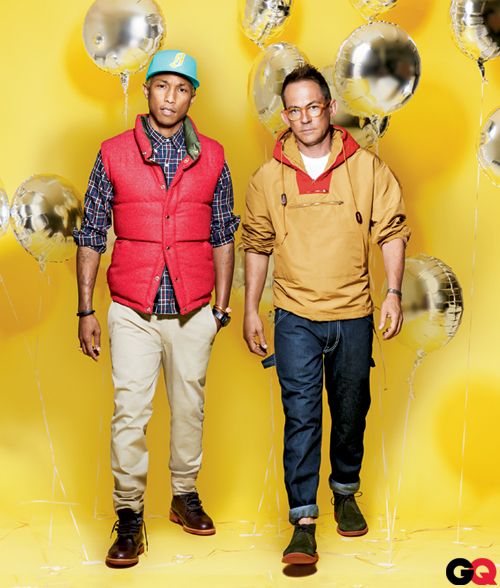 Super producer Pharrell Williams has launched a new fashion label called Bee Line. Get the deets inside and find out about Steve Harvey's last comedy show.
Pharrell Williams, creator of the BBC line, has teamed with menswear designer Mark McNairy for a new fashion label called Bee Line for Billionaire Boys Club. In the latest issue of GQ, outtake pictured above, the duo have a conversation about fashion. Here are the highlights:
Making the Band

Mark McNairy:
"I always liked what Pharrell did with Billionaire Boys Club—it's like preppy streetwear. We started by collaborating on one shoe. We talked about doing clothes, and eventually it evolved into a full made-in-the-U.S.A. collection."

The Line Between Streetwear and Menswear
McNairy: "In my head, there is no line."
Pharrell: "I don't know lines. I understand the concept, but it's just not fun to work inside a box."

Working with Pharrell
McNairy: "I came in confident. Then I started hearing how picky Pharrell is, so I got a little nervous. We had our initial meetings and decided what the direction should be. When I took all the prototypes to Miami, he loved everything."

Working with McNasty
Pharrell: "He's very quirky and a quiet guy, but also funny as hell. Within all that quirkiness, he's very confident. The man just clicks."

Southern Players
Pharrell: "Mark has learned a lot along the way, but his mentality is still North Carolina. I like the way he just crashes shit together."
McNairy: "Pharrell's basically a southern gentleman. I bet Virginia Beach isn't that different from Greensboro."

The One Piece That Says It All
McNairy: "It's definitely the gold- and silver-sleeve varsity jackets. I was in the factory and saw a metallic scrap on the floor. I ran to 35th Street, bought the leather, and bam."
If you love Steve Harvey's comedy................
He's putting together something special just for you. The comedian and radio host is walking away from the standup game as he headlines his final stand-up comedy show on August 2 at the MGM Grand Garden Arena in Las Vegas. His 27 year career in stand-up is officially done, so he says. Fans can watch live on Pay-Per-View August 2nd at 11 PM EDT/8 PM PDT.
Steve said,
"The road to this final show has been an amazing journey doing stand-up for the past 27 years, and I can't thank fans enough after reflecting on all those years on stage, and the unforgettable moments and jokes we've shared. It's been a wild ride over these years on stage, radio, TV and more, and taking the stage for my final show, I will have a special blowout performance in store for everyone in Las Vegas and watching at home that will be bigger than any show I've done so far."
Will you watch?
The Randomness:
1. Cuba Gooding, Jr. has gotten rid of that arrest warrant after allegedly shoving a bartender in New Orleans. STORY
2. Janet Jackson threatened legal action, so TMZ has retracted their story saying Paris Jackson & her aunt Janet got into a slapping match. STORY
GQ Photo: Eric Ray Davidson