LeBron James, who has his fiancee' Savannah in London too for the festivities, and a few of his Olympic teammates were spotted clubbing in London last night to celebrate their huge win. See pics of LeBron, Carmelo and Chris Paul inside and find out what Dominique Dawes has to say about The Fab Five.
Last night, Kevin Durant joined LeBron James and other Olympic teammates at Funky Buddha nightclub in Mayfair. The team had just beaten Tunisia by over 50 points to advance to the next tournament round. That calls for a celebration!
Chris Paul made a few phone calls before he entered.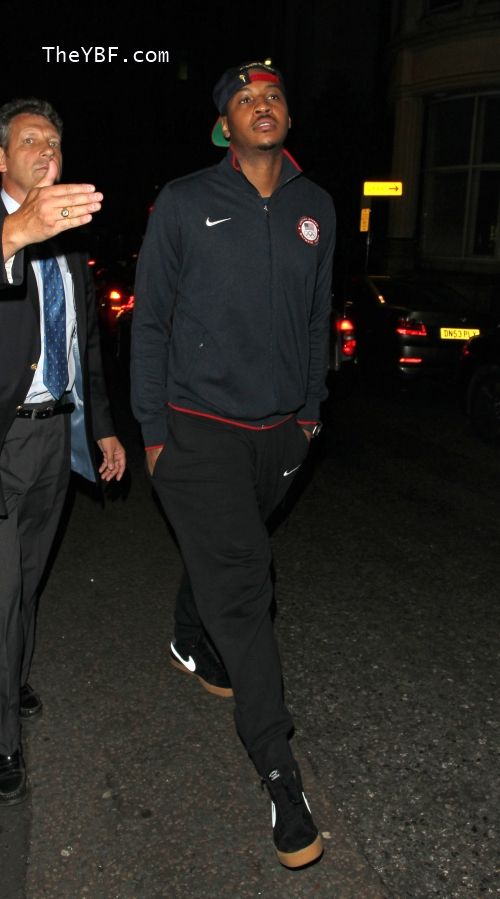 And Carmelo also took some time off the court to hang with the fellas. His wife LaLa just arrived in town tweeting, "Touchdown....LONDON!!!!!" We're sure the "Full Court Life" cameras will be in full force as well...

Also in Olympic sports......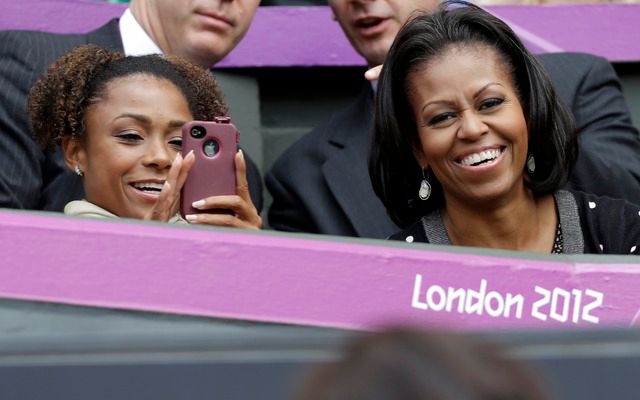 Olympic Delegate Dominique Dawes (shown above watching tennis several days ago with the First Lady) recently showered the 2012 US Women's Gymnastics team with praise. She said the girls deserve credit for winning "gold" in another country and that she's sure an all-around champion will emerge from the bunch.
She added that she and her 1996 teammates, known as the Magnificent 7, are very proud of the girls for finally bringing Olympic Gold back to the U.S. But she also addressed the comparisons folks are making about which team was better.
Watch her interview with Soledad O'Brien below:
BONUS:
Carmelo Anthony posed with the Fab Five after their gold-medal winning night. Cute!
Photos via Splash News/ Park