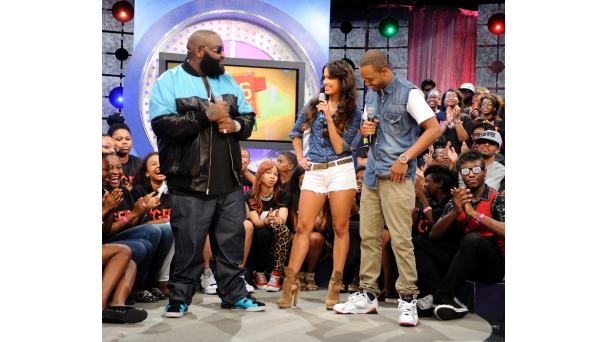 Rick Ross dropped his God Forgives I Don't album on the shelves today. And he celebrated by stopping by "106 & Park." Check out video of his appearance and the call he got from Diddy, plus Nicki Minaj's final new Adidas ad with designer Jeremy Scott...
Rozay rolled up to "106 & Park" today and performed for the crowd after receiving a long winded call of congrats from Diddy. He also played a game with the fans to see if he could recognize his own lyrics read to him from fans.
Peep the video above.
And that Rainbow Brite-esque commercial Nicki Minaj was shooting back in April is finally done. Check it:
The clip follows the rap chick hitting the streets of New York with designer Jeremy Scott and breaking out into a catwalk on the streets to flaunt her new Adidas Orignals. The clip also shows colorful folks from Tokyo and Chicago rocking their Adidas. And having a flaunt-off in the streets. Peep the cameos from Chicago Bulls baller Derrick Rose and rapper Big Sean.