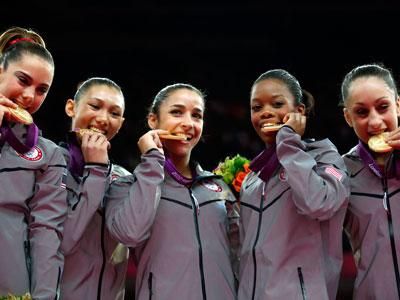 Gabby Douglas and the rest of the 2012 US Women's Gymnastics Team proved they are the best in the world--literally--by copping the Olympic Gold Medal today in the Team Finals. Get the deets inside and find out which other YBF atheletes have already won medals...
Today in London, (if you weren't watching the live feed and missed all the spoilers today--damn you NBC!) gymnast Gabby Douglas led the 2012 US women's gymnastics team to an Olympic team gold medal.
The final round just aired in the US, and emotions were high as the Fab Five beat out Russia (silver) and Romania (Bronze). The entire team--Jordyn Wieber, Gabrielle Douglas, McKayla Maroney, Alexandra Raisman, Kyla Ross--did a fabulous job in all parts of the competition.
It's the US first team gold medeal since Dominique Dawes helped the Magnificant Seven to that #1 spot in 1996.
Also, New Yorker and TEAM USA Women's Swim teammember Lia Neal (shown on the far left) won a bronze medal in the women's 4x100-meter relay race recently.
And Cullen Jones won a silver medal in the men's 4x100m freestyle relay recently as well.
By the way, Michael Phelps won the silver in the 200 butterfly and gold in the 4x200 freestyle relay today for USA. As a result, his name his going in the history books as the most decorated Olympian in the world with 19 medals total. That number couldclimb to 22 by the time these Olympics are over. WORK!
After Day 4, US medal count is in second place with 22 total, 8 Gold. China is leading with 23 medals total, 13 Gold.