Estelle has dropped a "European" visual for her her new "Wonderful Life video. Watch the clip inside and see LisaRaye cover "BE" Magazine where she talks about finding a man...
In her latest video, Estelle invites fans "into her life" as she tours the world and performs in her new video for "Wonderful Life". The video was directed by Iren Sheffield and shows just how far the girl from London has come.
Watch Estelle's "Wonderful Life" here: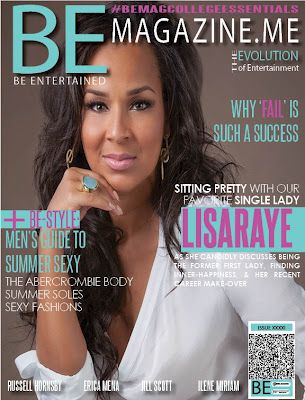 And speaking of exposing parts of your life, LisaRaye McCoy covers the latest issue of BE Magazine's, which drops digitally on Friday, July 27th. The article helps kickoff #BEweekend12 July 27-29th in ATL. Here are the highlights from the "Single Ladies" star's story:
On finding a man:
I am a single lady. I can't really say I'm looking for him; I just want to bump into him. I want to BE surprised. I want to BE swept off my feet like...is that, could that...why it's him! I want that whole thing with the music playing in the background and everything...

On still BEing called her past & present characters:
People call me Diamond all the time. It ranges from Diamond to Niecy to now Keisha. People in the grocery store will call me Keisha & I look around like "who me?" They reply with "girl you know that's you..."

On the current state of Reality TV:
You know what's so funny is that I was actually a part of one of the first reality shows on Bravo called 'The It Factor'. It was so much fun. Now, reality shows have really gotten out of hand. I am offended by it somewhat BEcause BEing an actress, I'm now competing with Reality TV stars on TV and in my pockets...
Photos via Bobby Quillard