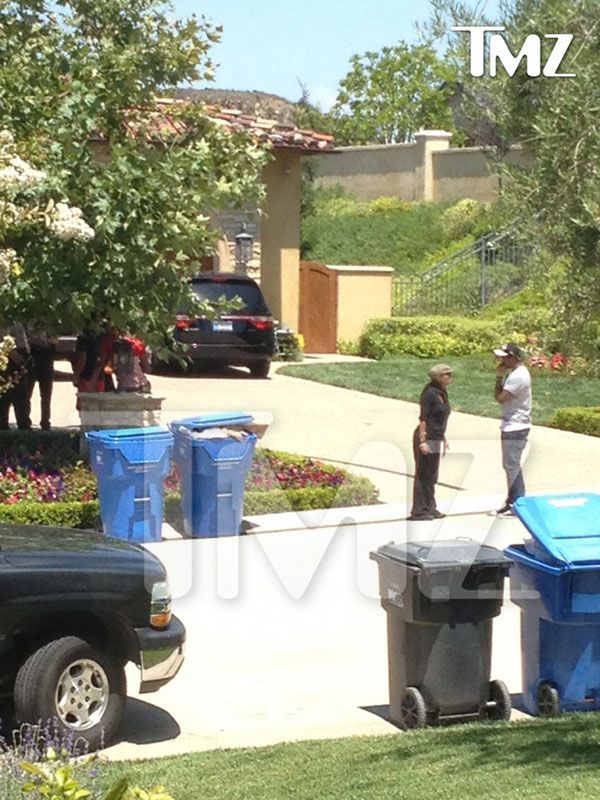 Yesterday the LAPD were called to the Jackson compound to help settle a huge fight.....and Janet and Jermaine Jackson were seen having a tense conversation right after. Deets inside.....
Om Monday, LAPD responded to a disturbance at the Jackson family compound for an "alleged battery" incident. The police didn't reveal who was involved but within the hour, Janet and Jermaine were snapped by TMZ having an intense conversation. Sources are reporting that one family member accused another of a physical assault (it is unclear if Janet or Jermaine were involved).
Things have been tense for the family since Janet and Jermaine where among the siblings demanding the Executors of Michael Jackson's Estate step down.
Also, a photo has emerged of Mrs. Jackson with Rebbie's kids playing UNO in Arizona. So......Mrs. Jackson doesn't appear to be "missing".

We are confused though on why Paris and the kids seemed to not be told or made aware that Mrs. Jackson was taken to Arizona.
And as of this morning, the executers of MJ's estate are rushing to get guardianship of Paris, Blanket & Prince:
The executors of Michael Jackson's estate will go to court to seek an emergency guardianship of Michael's 3 kids ... alleging that Katherine has been effectively kidnapped by Michael's siblings and as a result his kids are in danger and without supervision.

Sources very familiar with the situation tell TMZ ... the executors feel responsible for protecting the kids ... since the kids are the primary beneficiaries of their father's estate.
Something's fishy. Hope they work out their family issues soon.