In a horrific turn of events around midnight, a Colorado movie theater showing The Dark Knight Rises was raided by a shooter. Several were killed and injured, and, as of this morning, the suspect has been identified.
We have several developments-including video footage from inside the theater surrounding the shooting, as well as information about the suspect and a first look at his photo--inside....
The number of dead has been confirmed as 12 (revised from 14). Police have now revised the number of wounded people to 38. It was previously 50. One of the youngest injured, according to a hospital worker, was a 3-month old.
A masked man wearing a bulletproof vest, now identified as a 24-year-old local resident named James Holmes (shown above in a photo taken when he was a student at University of Colorado, before he dropped out as a PhD candidate in June), kicked the door in of a Century 16 movie theater in Aurora, CO only 20 minutes into The Dark Knight Rises midnight showing, and opened fire on innocent patrons after releasing a gas that made it hard for people to breathe.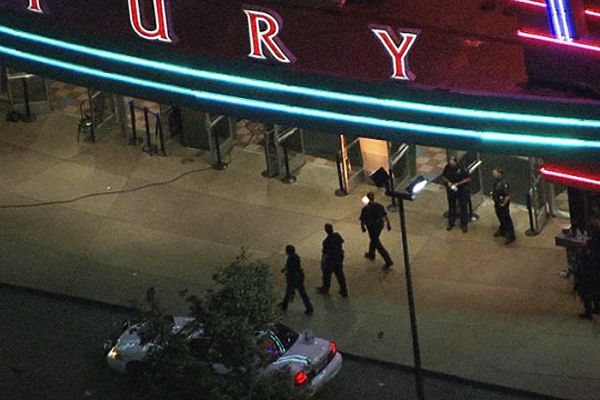 A witness who was inside the theater during the shooting described the scene to ABC News:
"We were maybe 20 or 30 minutes into the movie and all you hear, first you smell smoke, everybody thought it was fireworks or something like that, and then you just see people dropping and the gunshots are constant," witness Christ Jones told ABC's Denver affiliate KMGH. "I heard at least 20 to 30 rounds within that minute or two."
Another witness recounted:
"[Patrons] got up and they started to run through the emergency exit, and that when she turned around, she said all she saw was the guy slowly making his way up the stairs and just firing at people, just picking random people."
CNN reports:
Authorities also have evacuated the suspect's Aurora apartment building after "he made a statement about explosives" in his unit, Oates said. The shooter used at least four guns -- an "AK type" rifle, a shotgun and two handguns, the federal law enforcement official told CNN.
ABC News contacted Holmes' mother, who was unaware of the occurrence of the shooting, but interestingly knew her son was very likely involved once she was informed. She said, "You have the right person, I need to call the police. I need to fly out to Colorado."

Warner Brothers, the studio who houses The Dark Knight trilogy films, put out a statement of sympathy. And also has cancelled the premiere event in Paris tonight in light of the tragedy:
"Warner Bros. is deeply saddened to learn about this shocking incident. We extend our sincere sympathies to the families and loved ones of the victims at this tragic time."
And President Barack Obama also stated that as a country, we are committed to seeking justice:
"Michelle and I are shocked and saddened by the horrific and tragic shooting in Colorado ... We are committed to bringing whoever was responsible to justice, ensuring the safety of our people, and caring for those who have been wounded. As we do when confronted by moments of darkness and challenge, we must now come together as one American family."
Holmes was apprehended by police in the rear of the theater shortly after the shooting. Our thoughts and prayers are with the Aurora community at this time.
Stay tuned for more developments.
UPDATES
(5:13p EST): Holmes legally purchased his 4 weapons in May, June, and July of this year.
(5:35p): Holmes dyed his hair red before shooting and told police he was "The Joker". The number of wounded people has risen to 58 (plus 12 killed). (CNN Live)
(July 21 - 9:47am): 11 victims are in critical condition.
July 21 - 9:50am): At least 1 dozen explosive devices were found in James' apartment. Experts from around the country have been flown in to help handle the situation.