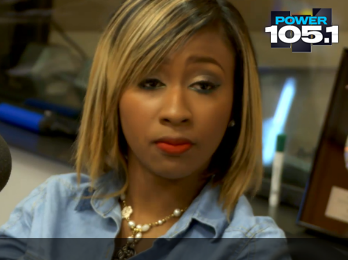 Rapper Diamond dropped in on The Breakfast Club this morning to dish on her new modeling gig, the "haters" on "Love & Hip Hop: Atlanta" and if she and Soulja Boy have threesomes. Deets inside.....
This morning, Diamond chatted it up on Power 105 1's "The Breakfast Club" where she dished on her upcoming EP "The Young Life" and revealed she has a new endorsement deal with Vanessa and Angela Simmons' Pastry line. She talked about her bikini photoshoot for them saying she used to work out 3 days a week and cut out beef and pork from her diet to look right for the shoot.
When asked about Mama Dee and those folks on "L&HH: ATL" who talk about her, she said she doesn't deal in negativity and won't respond to the insults. She added that she decided against doing the show because she's already an established artist and didn't want something reflecting poorly on her career. Oh.
She later revealed her relationship with Soulja Boy is very serious and she "would" do a threesome with him in the future....but wants him all to herself for now. Oh.
Listen to the interview here: