Alicia Keys has hit the campaign trail for President Barack Obama and is urging women to get out and vote. See pics inside and see the President and First Lady get kissy courtside.
"New Day" singer Alicia Keys is also hoping for a new America as she hosted an Organizing For America Volunteer Event at West Philadelphia OFA Field office.
The singer has been hot on the trail for President Obama as she readies her new album.
She also attended the Women Vote 2012 Summit at Pennsylvania Convention Center in Philadelphia, PA and made the day of some kiddies:
She tweeted, What an inspiring day!! When we stand together theres no impossible!! @barackobama ‪#women2012‬ Let's gooooo!!
And speaking of The Obamas, courtside at the TEAM USA game last night........
President Barack Obama and First Lady Michelle Obama got kissy courtside during an exhibition basketball game between the Brazilian and U.S. men's national teams in Washington D.C. The KISS CAM landed on the First Couple, and they ignored it--much to the crowd's dismay who boo'd loudly.
But when they were given a second chance--Mr. President went in for the lip lock. Get it!
President Obama didn't reserve his kisses for the First Lady only.....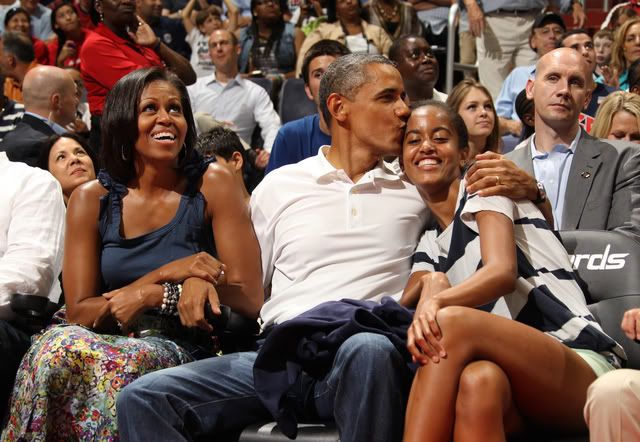 He also made First Daughter Malia blush with a smooch on the forehead. Loves this family!
The President, along with VP Joe Biden, also stopped by the women's national team's practice earlier yesterday.
Photos via Ouzounova/Splash News