Elle Varner just dropped her next single off her upcoming Perfectly Imperfect album. Check out the sweet and soulful track "I Don't Care" inside. Plus, rising artist Kendrick Lamar performed his brand new track "Swimming Pools" this weekend. We're feeling him, and so should you....
As a follow up to her track "Refill," Elle Varner keep up the girly story of falling in love with a young yet soulful vibe. Check out one of our fave up and coming R&B chicks on "I Don't Care," which will appear on her debut studio album Perfectly Imperfect, dropping August 7th. She also confirmed she's shooting the video for her newest track soon.
Elle isn't the only newbie from the Cali music scene. Rapper Kendrick Lamar is repping Compton as one of the fresh new artists with a great flow, even better beats and something real to say: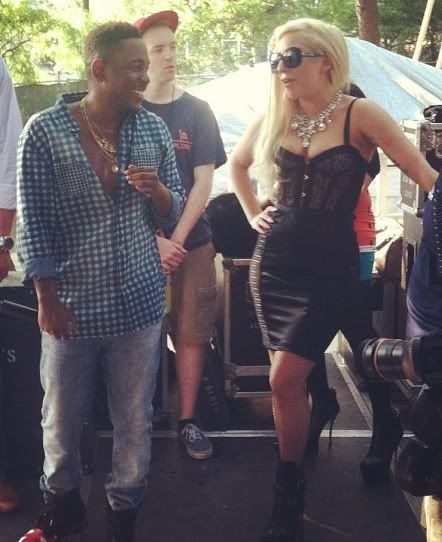 Dr. Dre's newest protege blasted on the scene with his hit "The Recipe" ft. Dre himself back in April. But he was already making waves after his 4th mixtape back in 2010, Overly Dedicated, and his first independent album Section.80 topped iTunes charts in 2011. And he did so as part of the group "Black Hippy" which includes fellow West Coast rappers Jay Rock, Schoolboy Q and Ab-Soul.
So he's teamed up with Cali's finest (Dr. Dre & his Aftermath label) to drop a debut studio album through a major label--Interscope. Kendrick is set to drop good kid, m.A.A.d city on October 2nd.
His newest single "Swimming Pools (Drank)--following up to "The Recipe"--was released a few days ago. And the 25-year-old hit up the Pitchfork Festival at Chicago's Union Park on Sunday to perform it for the first time.
He was spotted (above) backstage chopping it up with Lady Gaga, who says she can't wait to work with him. Peep the performance below:
The track was released only 3 days prior and the crowd knew every word. You feelin' him?
The Randomness:
1. A woman has accused Trayvon Martin's murderer, Zimmerman, of molesting her for 10 years from the time she was 6. STORY
Kendrick Lamar Pic Credit: Hot 97.com