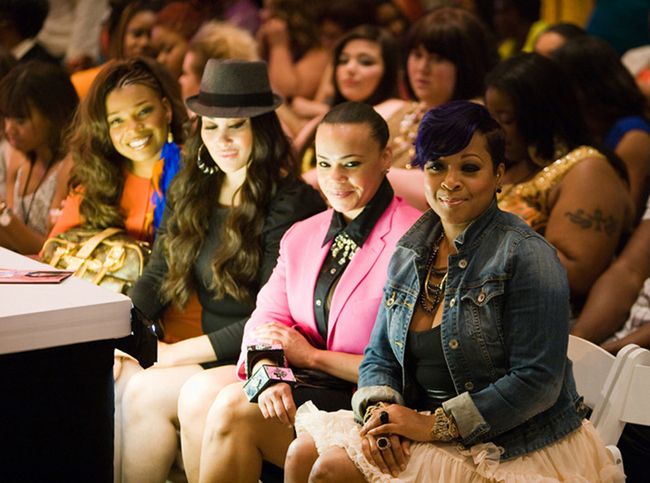 "Touch It" singer Monifah sat for a revealing interview recently dishing on her cocaine addiction, her upcoming reality show and her friendship with Heavy D. Deets inside......
Who knew singer Monifah was addicted to cocaine for 7 years?
The singer, pictured above on far right with fellow "R&B Divas" Faith Evans, Monifah, Syleena Johnson and Keke Wyatt at fellow castmember Nicci Gilbert's fashion show, chatted it up with JustTheFab recently. She reflected on Heavy D, her struggles in the industry, her drug addiction and her new reality show.
After being discovered by Heavy D in the 90s, Monifah says she went on a roller coaster ride in the industry that left her emotionally scarred. Though her first album was a success (remember "I Miss You"?), she says her professional relationship with Heavy D became strained during her second project. The pair's friendship soon fell apart and she said she regrets that she didn't speak to him before he died.
After losing her record deal, 41-year-old Monifah said she was forced to deal with her abandonment and rejection issues...and it didn't go so well. While still struggling with the deaths of several family members (including her father), she turned to cocaine for seven years to numb the pain. But now she says she's been sober for over a year and is ready for the next chapter.
This next chapter will actually be a new TVOne reality show called "R&B Divas." She'll star alongside Faith Evans, Syleena Johnson, Keke Wyatt and Nicci Gilbert. Monifah promised that the show will have its drama, but the real intent is to focus on positive resolutions. I'll be watching...
Watch the interview here: