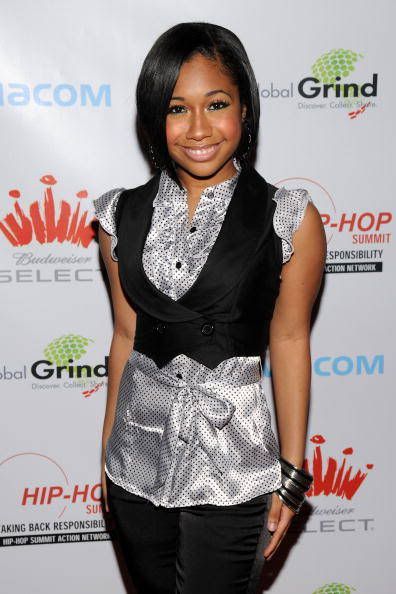 R&B singer Tiffany Evans is all grown up now and she's recently revealed that she's married and pregnant! Get the deets on her new life and new music inside....
"If You Love Me" singer Tiffany Evans has been pretty low-key since parting ways with Mathew Knowles, but she recently revealed to ESSENCE.com that's she's had a lot on her plate. In addition to talking about a new album, she revealed she's been married for two years...and she's 6 months pregnant!
During her chat, she also talked about her new music and revealed why she IS NOT in competition with Rihanna and Beyonce. Here are the highlights:
ESSENCE.com: You've been quietly recording new music for a while now. Tell us about your new new EP, Take 1.
TIFFANY EVANS: Over the last two years, I've been growing and going through things like love. I don't want to say this EP is exposing, but it is to me. When I first came out I didn't write anything. My fans have never heard any music written by me. I thought it was important to do so this time around. I also thought it was important for me to experience life and go through things to write about them from a true place. I wanted this project to be organic. I had to take myself down a notch and go through love and write about it. The direction of Take 1 is very funky, very soulful, very R&B. It's womanly. It's me starting over. It's me reintroducing myself to everyone and finally establishing who I am as an artist. It's a real coming of age project for me. This EP was also the quickest way to give new music to my fans. I've been working on it all by myself, I feel like that chance now to really establish who I am music wise and who I am as an artist. This is that chance for me.
ESSENCE.com: How do you fight the need to compete against the Rihannas and the Beyoncés of the music industry?
EVANS: They are amazing artists and I respect them for their craft. But honestly, I do not focus on other female artists. Sometimes when you're looking at other people you can lose yourself. I just want make myself known for my fans. I just want them to know who I am. I don't want to compete with anyone. I want to push myself. You truly can't do that if you're competing with everyone else. I really want to be the greatest I can be.
ESSENCE.com: Who's your celebrity crush?
EVANS: Well… might I say, I don't have a celebrity crush considering I'm married! (giggles and laughs) No one knows. I've been married for two years. He is the love of my life and I love him very much. His name is Lorenzo. He's a really a cool guy and we're expecting something else as well – our first child together. I am six months pregnant. No one has seen me and I've been waiting the proper time to say something about it. I'm so happy and I'm so excited and I'm having a girl. It's so big and wonderful to me. It's an amazing experience and I wish guys could go through this. It's life changing.
A secret marriage at 17? Oh...
Congrats all around!