Tia Mowry Gets BOLD In BANGS For VIBE VIXEN's June/July 2012 Issue
May 29 | by Natasha
We're loving Tia Mowry these days! She's no longer just the cutesy girl next door. She's full fledged grown and sexy. The 33-year-old actress, wife & new mom has been upping her hot factor on BET's "The Game" for the last few years. And now that she's parting ways with the show, it's clear she has come into her own.
Check out fab chick rocking the cover of VIBE VIXEN's sixth digital issue, and what she had to say about "The Game" critics and those Real Housewives...
Tia Mowry--rocking an insane gold necklace, an electric blue skirt and stark white blazer with colorful accessories--dished to VIBE VIXEN magazine what she thinks about critics of the new seasons of "The Game"...and she actually agrees! Kinda. The now former star says the show has changed--but the new feeling of a "mini movie" could be a good one.
The "Oh Baby!" author (who is currently on a promo run) also says that while she hasn't watched "Basketball Wives," she IS a huge fan of the "Real Housewives of Atlanta." But don't expect her and her pregnant sister Tamera Mowry-Housley to turn their reality series, "Tia & Tamera," into that kind of show:
On Her Style Since Having Cree
It's so funny you asked me that because Tamera just told me, 'Your style has really changed.' My whole thing with being a mom is that you don't want to lose your identity; you don't want to lose who you were before. You can still be that hot, sexy mom. If anything, I like to think I'm wearing heels even more. I didn't wear them that much until the end [of the pregnancy], so I'm now all about wearing heels. I wear a lot of vibrant, flowy, colorful clothes, before it was edgy. I'm a mom now, but when I go out, I don't forget who I was before.

On Basketball Wives and RHOA
I haven't seen "Basketball Wives," but I heard about it. I am a huge fan of the "Real Housewives of Atlanta," but I just think that Tamera and I have a different take on these reality shows. I remember when we were pitching our show to different networks, many of them didn't want to pick it up because they felt like we didn't have enough conflict. My sister and I were like, 'We aren't those type of people,' so it's all about us being positive role models. People always say it's nice to see fresh, vibrant, funny women on television, and that's my sister and I. That's how our career has always been and we knew we weren't going to change who we are for the show business, so it's kind of something that has been accepted.

On Reactions to "The Game" this season and the show changes
I basically agree with them. I do think the show is different and it's taken a new turn, but it's not a new show. It is more from a drama perspective now and these last few episodes have been amazing. It's almost like you are watching a mini-movie, and for the fans that watched it from the beginning, they can't adjust well to the difference, but new fans love it because it's a real show. I have to appreciate that these characters are real and they come from a realistic perspective. We talk about topics that a lot of people don't want to talk about.

Loves her. The issue hits VIBE VIXEN's website Monday, June 4th.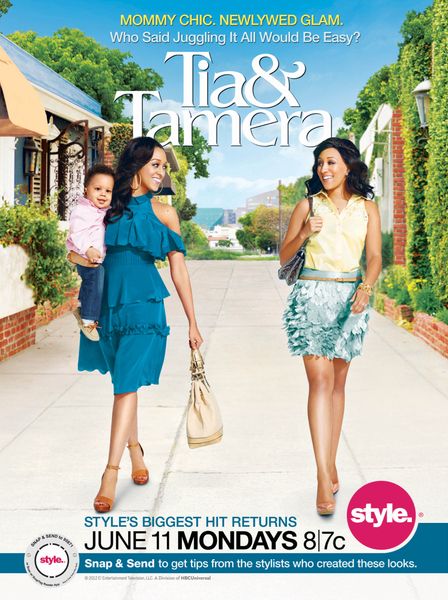 Here's Tia & Tamera's brand new promo poster for season 2 (premiering in a couple weeks) of their "Tia & Tamera" Style channel reality show.
And as for sis Tamera's baby belly progress, she posted this uber cute pic this weekend:
Awwww...
Photography & Makeup Credits: D'Andre Michael/Maldonado Agency