MUSIC FAB: Chris Brown FREESTYLES To "Mercy" & "Way Too Cold" + Nicki Minaj LINKS With Her Mini Me's On "ELLEN"
May 10 | by _YBF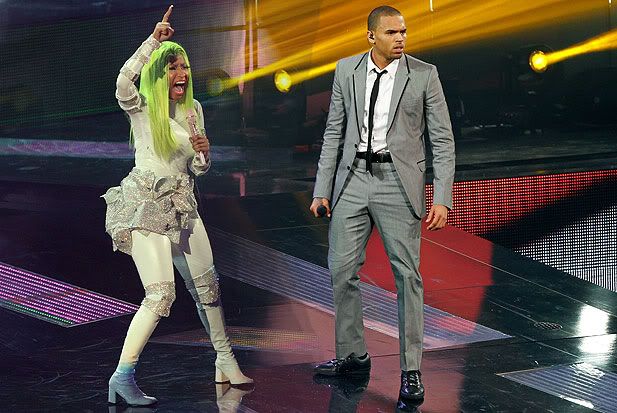 Chris Brown has dropped two new freestyles to wet the appetites of his fans. Check Chris bust two rhymes over Kanye West beats inside and see Nicki Minaj on "Ellen" and reuniting with Sophia Grace and Rosie.
As he quietly becomes a much-sought after video director and rapper in addition to those singing and dancing skills, Chris Brown has dropped two freestyles, over Kanye West beats, to let fans know that they can expect a lot from his forthcoming Fortune album.
Listen to "Mercy" freestyle here:
Listen to "Thearaflu/Way Too Cold" here:
Folks are saying this one caused drama with Rihanna as his lyrics could have been a stab at her:
"Don't f**k with my old bitch it's like a bad fur/ Every industry n***a done had her/ Shook the tree like a pumpkin just to smash her/ Bitch is breaking codes, but I'm the password."
After Chris tweeted the link to the track, Rihanna unfollowed him and commented: "Aw, poor dat #neaux1currr."
Chris responded: "Assumptions! I didn't say any names so if u took offense to it then its something you feel guilty about." And then unfollwed her as well.
These two....
And on TV..........
Nicki Minaj stopped by Ellen's couch to chat with the host about his career and her young fans. When Ellen asked her how she dealt with little fans AND her explicit lyrics, she smartly said, "I'm realizing I don't have to deal with it....I'm not their parents!" She also said she "felt bad" about deleting her Twitter account so she decided to come back.
Watch Nicki with Sophia and Rosie--the little girls who became famous for rapping Nicki lyrics--here:
The Randomness:
1. Congrats to Jermaine Paul (Alicia Keys' backup singer) who just won "The Voice" last night.