TV FAB: Terrell Owens FACES OFF Against Baby Mommas On "Dr. Phil"
May 08 | by _YBF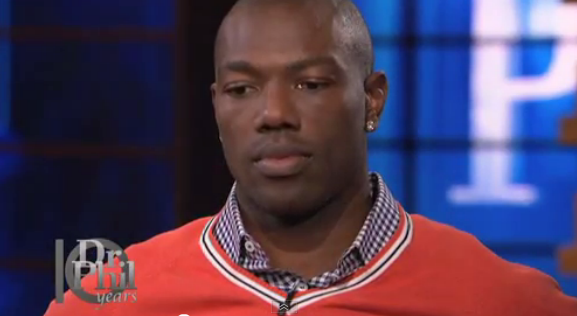 Dr. Phil helped Terrell Owens confront his inner demons today on a show where he revealed he didn't have a relationship with his own father and how that has played out with his own kids. And to stir the pot, Dr. Phil let a few of the baby mommas confront him on TV! Get the deets inside.....
Terrell Owens made a brave appearance on "Dr. Phil" today where he was confronted about his parenting skills or LACK thereof by three baby mommas. And to make it even more juicy, the mother of one of the BMs was on there as well as she wasn't having ANY of T.O.
To make it clear, T.O. doesn't seem like the typical deadbeat. Does he call, write or reach out to the kids - No. But, he did pay on time.....when he had the money. Though a few of the women wanted him to spend more time with the kids, the crux of the issue was most of them went from getting $20,000 a month in child support to NOTHING.
We all know T.O. had some financial difficulties so now he's the "Dad" that doesn't come around OR provide support. And the baby mommas were not pleased. At all.
One of the women, Kimber, said T.O. has only seen their daughter 12 times....mind you.....she's 7!
He said, "The thing is, with me traveling back and forth, I don't have a set schedule. Pretty much 90% of the time every time I've reached out it's been a bad time."
T.O. revealed that he had four children with four different women saying, "No, it wasn't a plan. I was irresponsible in that regard." You think?
Then in one shocking moment, T.O. said, "I didn't know who my daddy was until I was 10 or 12. Surprising as it may seem, he was living right across the street."
During a moment of clarity, Dr. Phil told him "You have an opportunity, because it's not too late." He then told the mommas to keep down the drama because, "If you do anything aggressively or passive aggressively . . . to block his relationship with his children . . . trust me, the day will come when it will bite you in an ugly, ugly way."
He added, "...you can't get blood from a turnip" and that: "You guys need to stop these hostilities, because it's your child who's picking up the tab for that."
So how did this end? Well, who knows waht the future holds but at the end of the show, T.O. met two of his daughters and was seen saying, "Have you been to Magic Mountain? Maybe I can take you guys to Magic Mountain. You can ride the roller coaster. I love you"
Baby steps......
Watch show clips here: