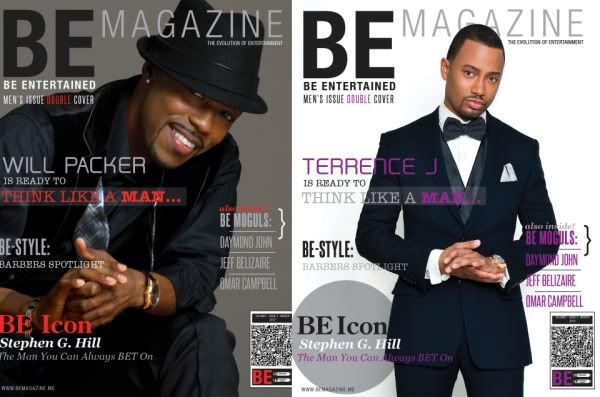 Dapper fellas Will Packer & Terrence J, both gearing up for their upcoming Think Like A Man film, are celebrating their style on the new double cover of BE Entertained Magazine. See their covers inside, plus what Nia Long, Larenz Tate and Isaiah Washington had to say about their classic film Love Jones......
In the latest issue of
BE magazine
, (which releases nationwide on April 20th), Terrence & Will both discuss the impact the
Think Like A Man
film has made on their perspective careers. They showcase just how BOSS they both are, getting fly from head to toe and draped in grown man attire.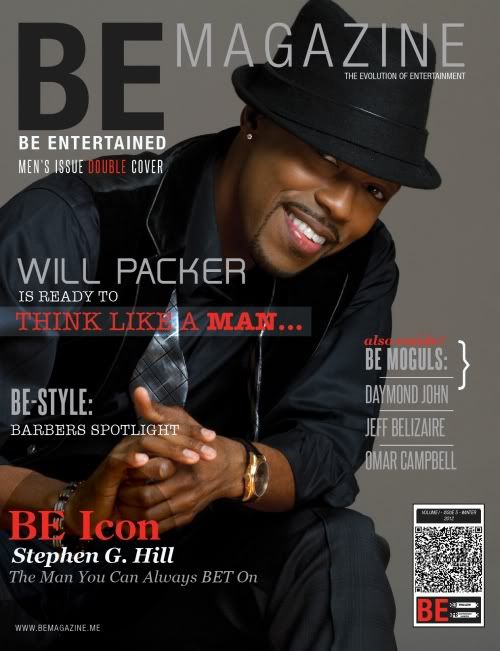 In the article, Terrence J says,
"This movie is a laugh fest, with so many good moments in it. It'll also get you to think; there are certain topics that are discussed in Steve Harvey's book, like opening doors for young ladies, young ladies waiting BEfore they have sex...it deals with all of these issues, so hopefully it'll get some good dialogue and conversation going. I want everyone to feel proud about the movie, hopefully think a little more about relationships, and to have a lot of fun & laugh."
And Will jokingly adds,
"Terrence is horrible...I'm just going to tell you. Terrence J showed up late, he didn't know his lines, he's really not much BEtter than AJ. 106 has BEen downhill ever since. [laughs hysterically] Terrence J is my man! He's a great kid, he's like a brother to me. He came in to the table reading with all of his lines memorized and just to give you some perspective, nobody does that..."
Check out the trailer for the movie below, also starring Gabby Union, Michael Ealy, Taraji P. Henson, Meagan Good, Chris Brown, Kevin Hart and plenty more:
And in classic flicks.....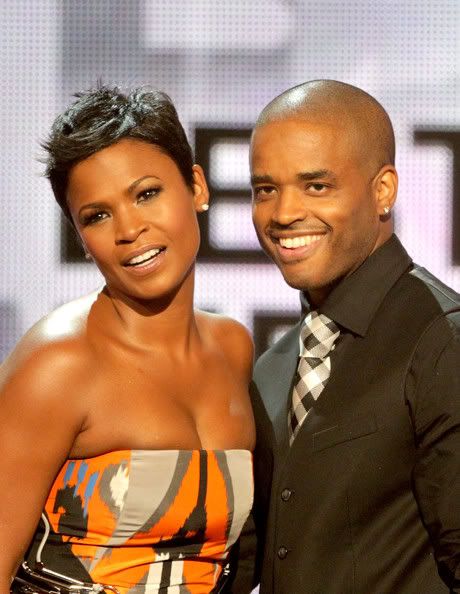 Nia Long, Larenz Tate and Isaiah Washington talked to ESSENCE.com about the 15th anniversary of one of our fave films of all times, Love Jones. Here are the highlights:
On the film's impact:
LONG: I think Love Jones showed Black love in a way that we hadn't seen on film in a very long time, specifically our generation of young people. It wasn't the typical romantic comedy where it was about the jokes. I think the comedy was appreciated through the real-life situations. I also think it was pretty – the way it was shot, the lighting, the vibe of the movie was just very sexy and very cutting-edge. I think the film came out before its time, and I feel really lucky to be a part of something that has continued to resonate with people through all these years.
TATE: I realized the impact when I would be walking somewhere and someone would be like, "Love Jones!" I still meet women who say, "That's in my DVD collection." I would talk to Nia, and she'd say, "That movie makes people go crazy." I also knew it was serious when brothers would come and say "Love Jones, man, that movie really helped me." It's gotten so big that people do poetry Love Jones celebrations every single year, like Trekkies celebrate Star Trek.
WASHINGTON: I think, based on the soundtrack, everyone wanted to see this movie with us in it… There was no film like that. We hadn't had Best Man yet or Jumping the Broom. Those films couldn't have happened without Love Jones. I feel good about that. We opened the door to a film where African-Americans were on screen and they weren't killing each other.
Their favorite scenes:
LONG: The scene in the rain where Darius and Nina have their last kiss. It was so cold outside. I didn't expect for the rain to be that cold, because it was movie rain. But then it really rained. So we had a combination of warm and cold rain. I went back into my trailer and I literally wrapped myself with plastic bags to try to stay warm. There was a big argument about that scene because everyone was like, "Black women don't like to get their hair wet, and this is unrealistic." That's not true. We can be in the moment. We're not that concerned about our hair.
On the possibility of a sequel:
LONG: There's talk about it. Larenz and I, if we do it, we're going to do it right, and we're gonna do it together. It's a classic film and it has to be handled as such. And if these two characters can grow in a realistic way and we can do the film in a way that still gives people the feeling of "Wow, there's still movies about Black love."
Are you feeling a possible
Love Jones
sequel? Read the rest over at
ESSENCE
.
Photos via Jason Setiawan/Allen Cooley