A few more intimate pics from Rihanna and Drake's upcoming "Take Care" video have been released. Check out the twosome in their new minimilistic vid, plus what Rihanna had to say about THESE boob revealing pics....
The "Take Care" track, which appears on both Drake's Take Care album and Rihanna's Talk that Talk album, will have black and white cutesy couple visuals a la the twosome's colorful "What's My Name" video.
Director Yoann Lemoine revealed he wanted to keep a humble feel for the video as he caught Drake & Rihanna's close off-screen vibe:
"They seemed to be super close and that's what I wanted for the video. Visually, it's a very humble video. ... It's not crazy. It's actually the most indie video I've done my whole life. It's probably the most famous artists, and they were so open to a project that was so minimal."
And reportedly the video is laced with a "group of muscular male performers acting out tribal dance scenes" and shots of various animals moving in sync.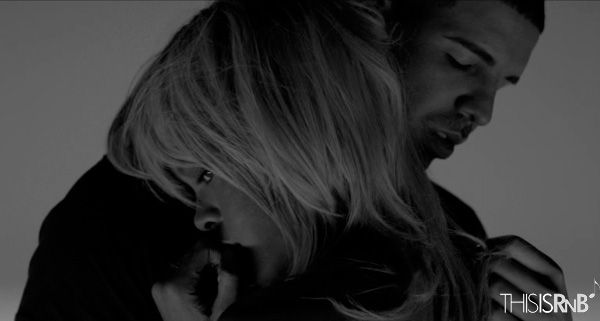 ThisIsRnB posted these glimpses into the video which airs soon.
And after Sunday's boob revealing pics while out and about for dinner in NYC, Rihanna took the paps to task as they caught up with her last night while she left her hotel.
She signed tons of autographs and took pics with all her fans who asked. When the camera guys asked her if she'd seen her revealing pics on the net yet, she responded, "You mean my t*tties?" Ha! And then jokingly laid into the paparazzi blaming them for using the flash on their cameras. Check the video here.
BONUS: Speaking of sneak peeks, here's another sneak peek into Ashanti's "The Woman You Love" video: