YBF Celebs ARRIVE For "Think Like A Man" Hollywood Premiere!
Feb 10 | by Natasha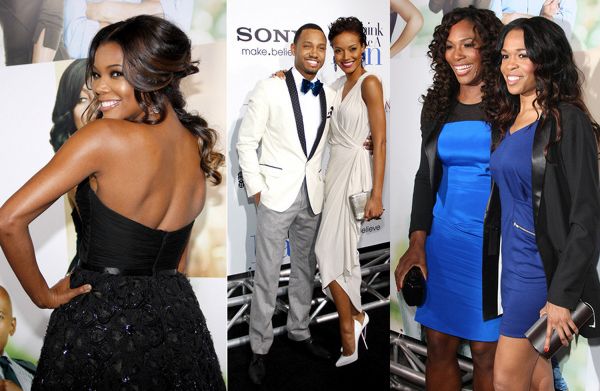 Fabness was all over the place for last night's Los Angeles premiere of the Screen Gems film Think Like a Man at the ArcLight Cinemas. We've got pics of the stars of the movie, Gabrielle Union, Terrence J (and his boo Selita Ebanks), Meagan Good, Taraji P. Henson, Kevin Hart and more. Plus celeb supporters like Serena Williams, KeKe Palmer, Diddy, Jennifer Hudson and plenty others....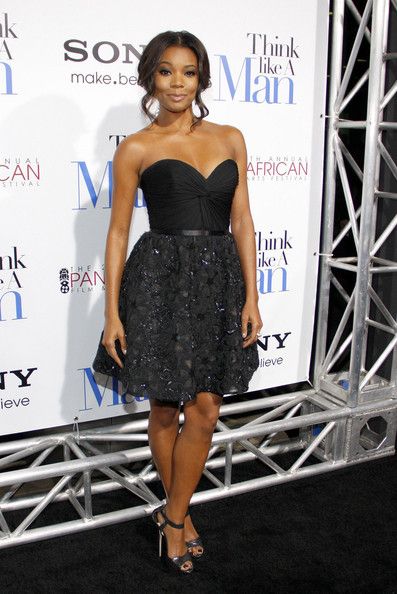 And this is how we love our Gabby Union. The Think Like A Man star rocked her usual little black dress...but with a flare. She rocked a black Amsale chiffon cocktail dress with a twist bodice and a floral cut out skirt with jet beads and sequins.
(Amsale Aberra is an Ethiopian-born couturier who is known for her wedding designs, and her boutique in NYC had its own reality show on We called "Amsale Girls"--which we LOVED.)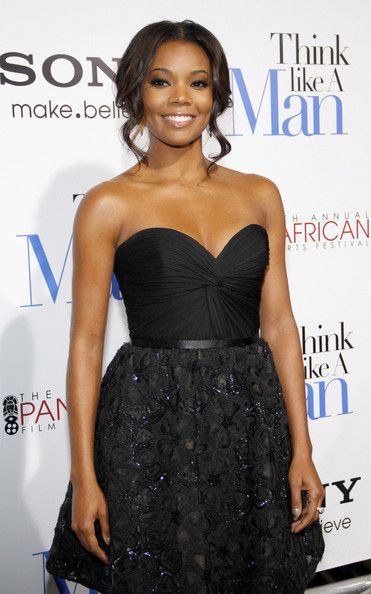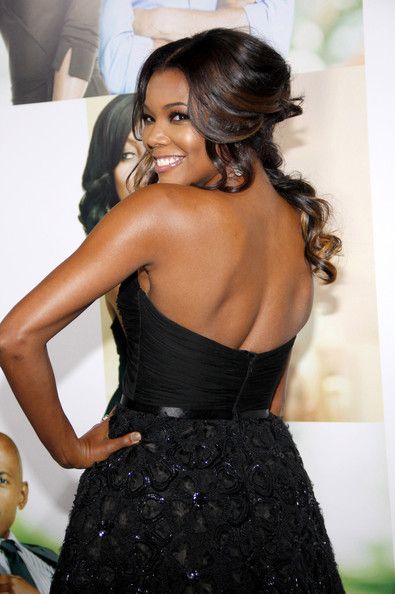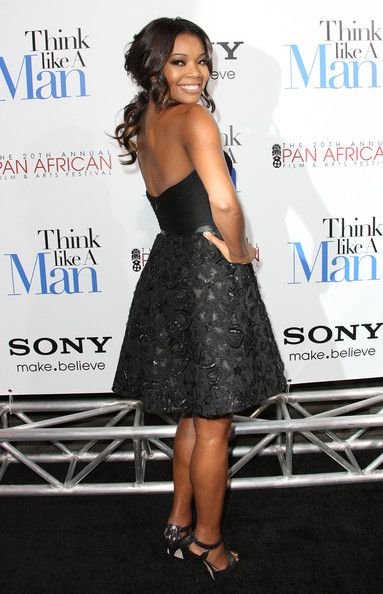 Cutesy and fab look for her. Wish she would have stepped up the shoes a bit though.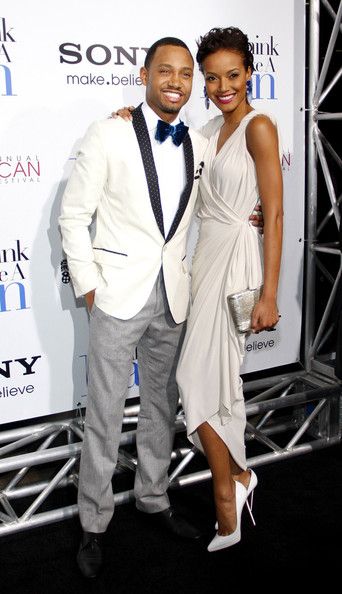 Well looky here. Cast member Terrence J had his model girlfriend Selita Ebanks on his arm. One of the first times they've actually posed on a red carpet together. Guess you gotta pull out the stops when pubbing a project. Selita looked chic in this flowing white gathered dress and white pumps (sigh, y'all know how we feel about white shoes).
Terrence went the preppy dinner jacket route with a polka dot lapel to pop on the white. All paired with grey slacks.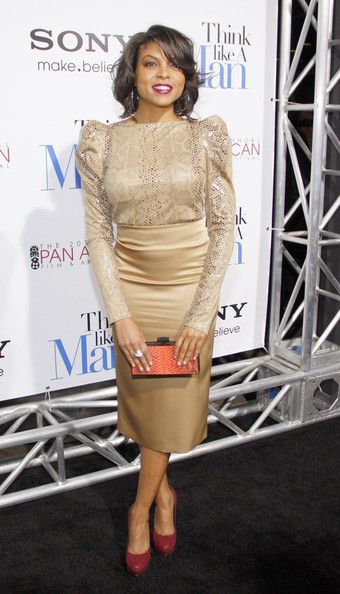 Star Taraji P. Henson kept it conservative in a boatneck snakeskin longsleeved blouse with puffed shoulders paired with a below-the-knee tan skirt. Looks like a librarian who went to the club. But we love Taraji nonetheless.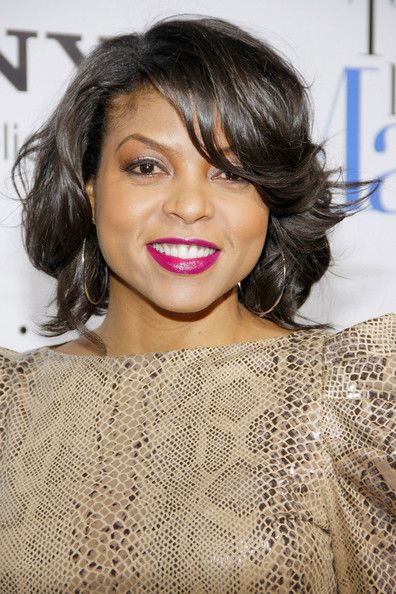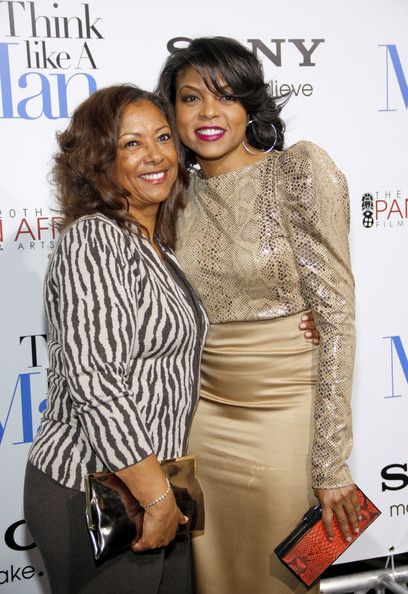 And Her mom is gorge! Great genes.
Jennifer Hudson kept it frilly on the carpet: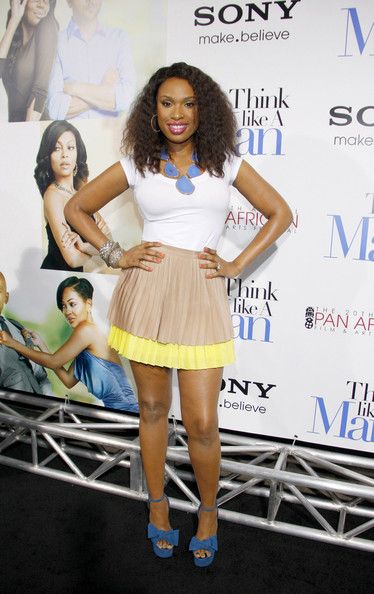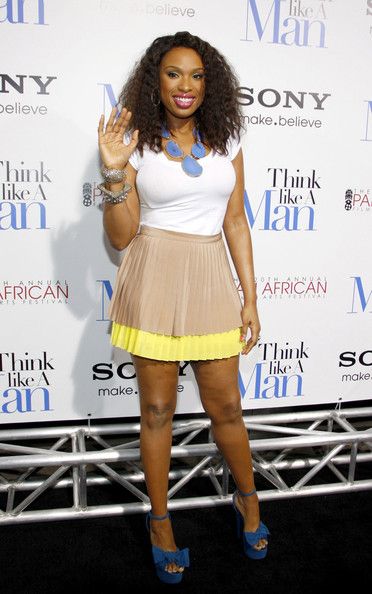 I actually like this look for her. The pleated skirt trend is on target, and she stepped it up with a two-tone, double layer mini version by Gucci. Cute blue Giuseppe Zanotti bow detail shoes to match her plain white tee accented by a blue necklace. And the fun wild crimps to match. We're feelin' it.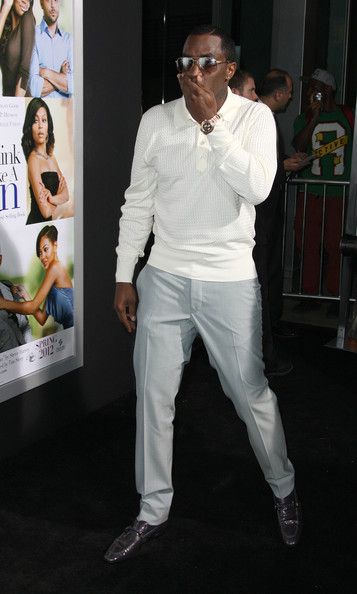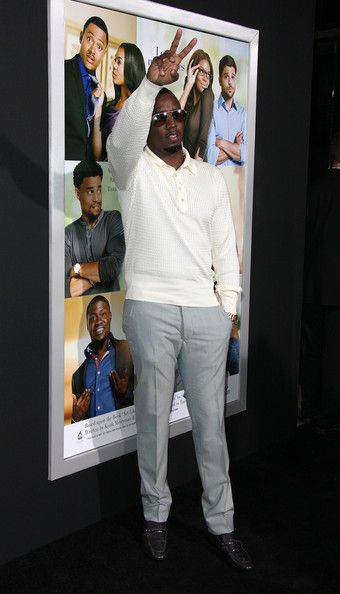 Diddy made his way on to the carpet to show some support. This man knows how to rock a casual yet sleek look.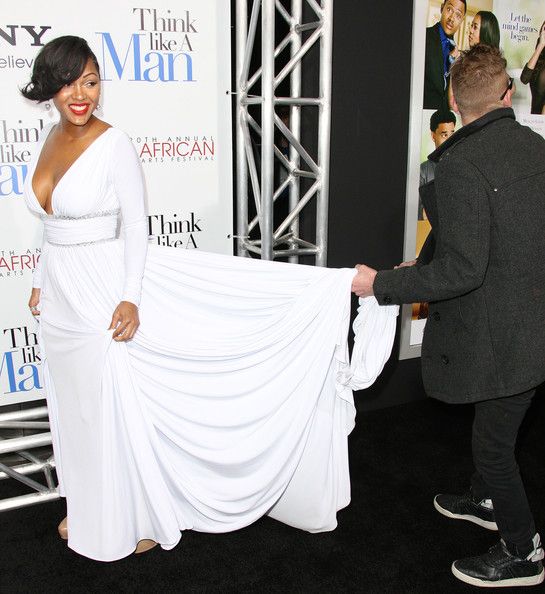 Meagan Good made her way onto the carpet in an eye popping white gown cut to show her fave assets.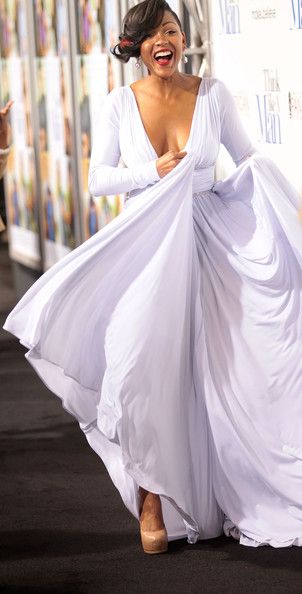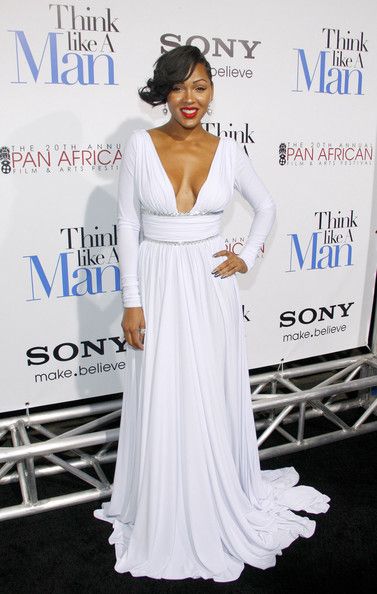 It's actually a great color for her, especially with the pop of red lipcolor, and a great fit. Sexy without overtly doing too much. Fab!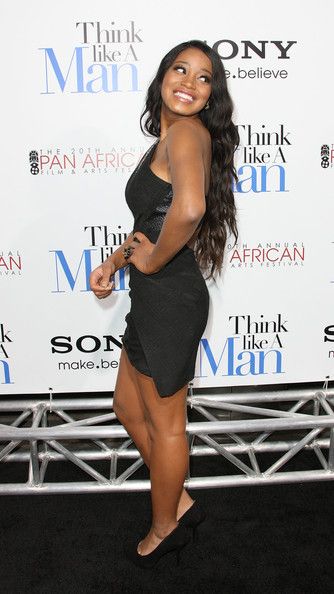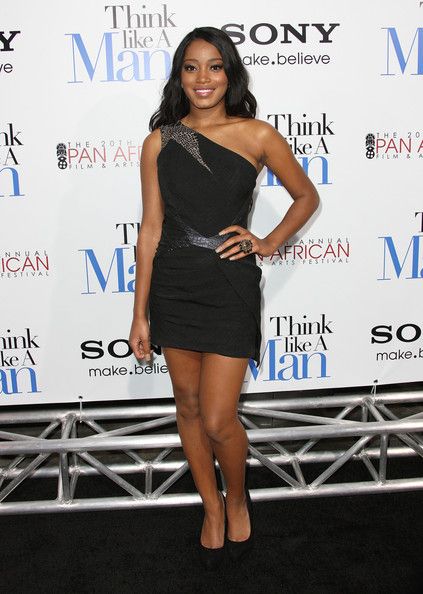 One of our fave youngins, KeKe Palmer, hit the carpet to support the cast. She looked her usual cute self in a one-shoulder black dress from the Guishem Fall 2011 line, with python embossed embellishments.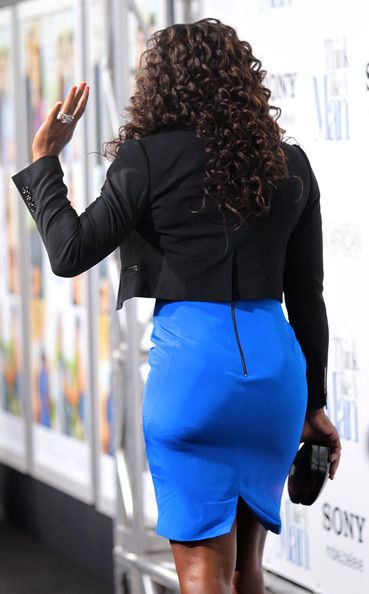 Can you already tell who this is?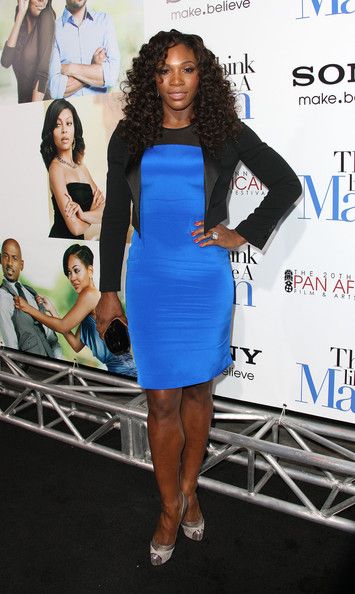 It's Serena Williams of course. The tennis pro rocked a bright blue cocktail dress with her fave black blazer for the occasion.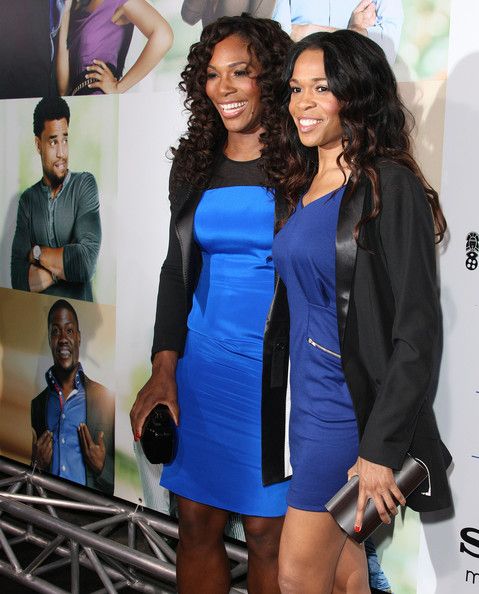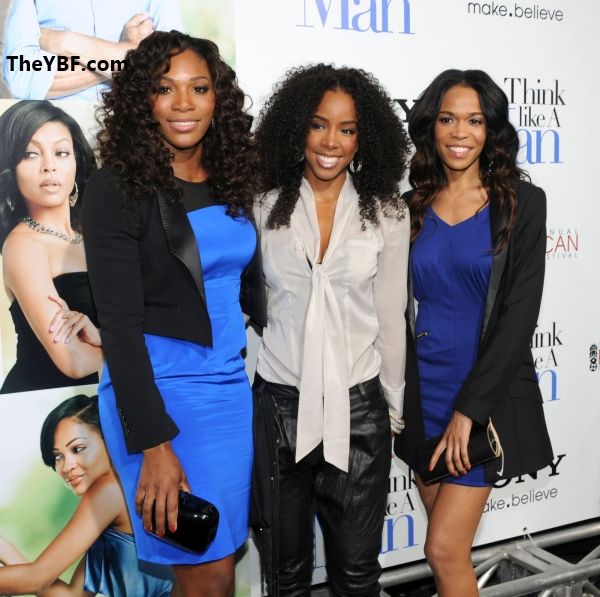 And posed it up with her girls Kelly Rowland and Michelle Williams.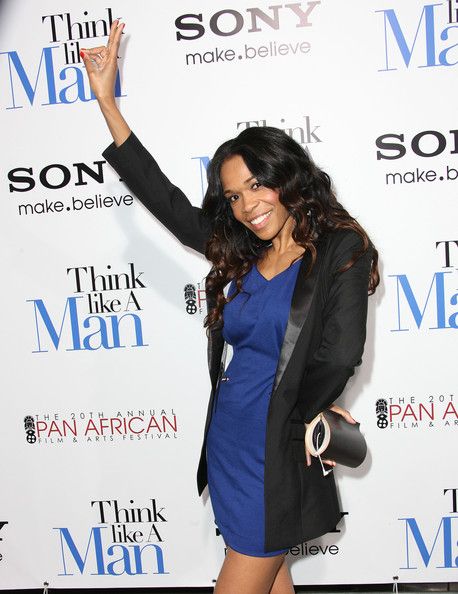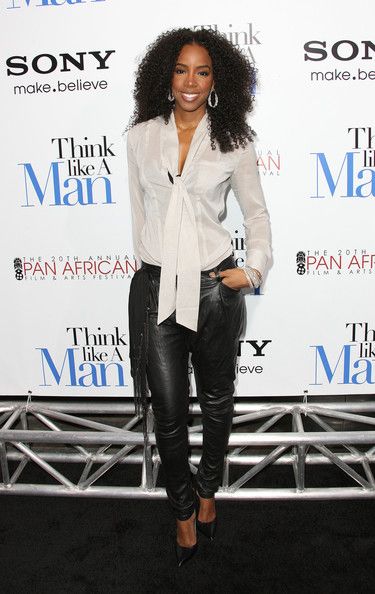 Speaking of Kelly, effortless as usual in leather leggings (which could have been more fitted) and a sheer grey blouse.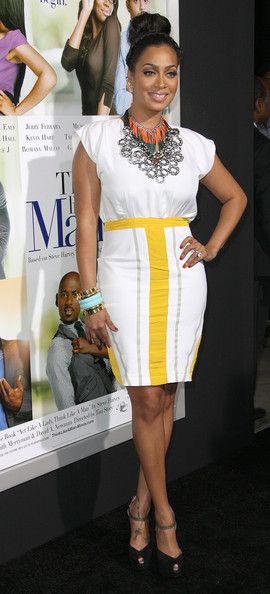 And y'all know LaLa was there to complete the circle-o-firends.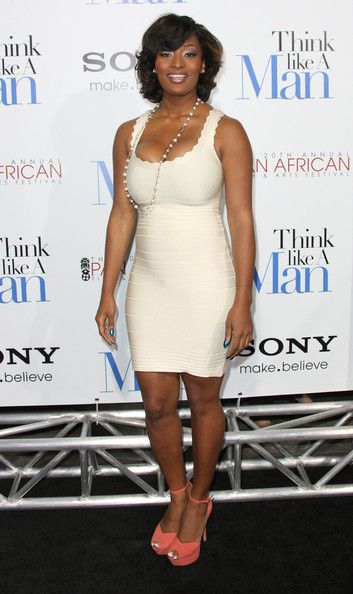 Toccara Jones in her white Herve Leger dress with a scalloped hem--Fab! This must have been what she picked up when we spotted her shopping there the other day.
Ne-Yo is still touting his new artist Ravaughn Brown on red carpets.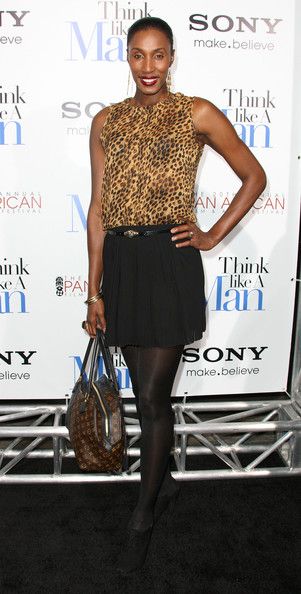 Former WNBA legend and mom of 2, Lisa Leslie, made her way to the carpet.
Star of the movie Kevin Hart hit the carpet with his gorgeous girlfriend Emiko, who rocked a bold yellow maxi dress.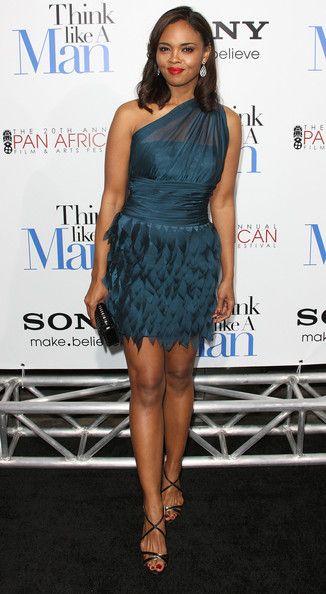 Actress Sharon Leal hit the carpet in a nice blue strapless frock. But more importantly, is this her new man? Her ex-husband, Bev Land, was a dip in the snow for her a well. So maybe....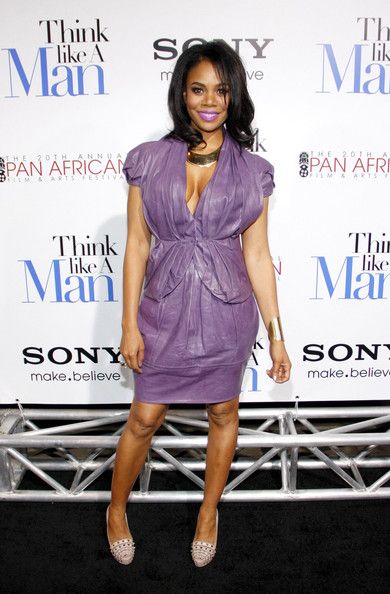 Funny actress Regina Hall hit the carpet.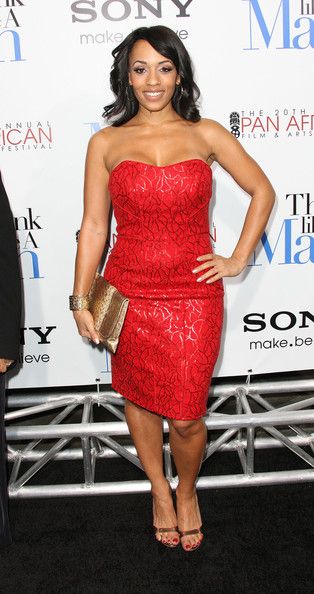 And Melyssa Ford wore this dated red dress which we're not feelin' at all. Good try though.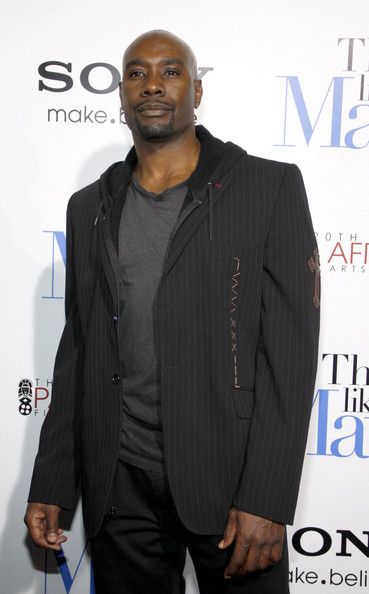 Oh hey Morris Chestnut. Is that a hoodie under your suit jacket?
Modelicious YaYa Dacosta hit the carpet in this mustard pantssuit and colorful headwrap. Such a fab chick.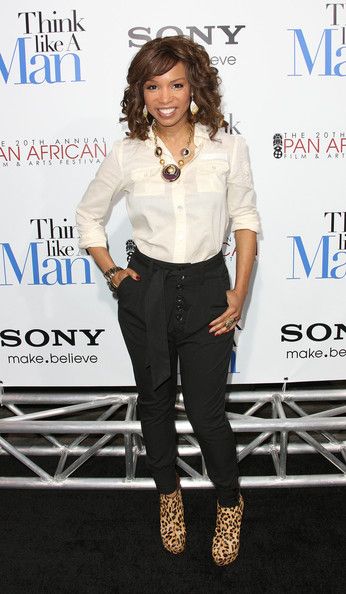 Elise Neal popped on the carpet with leopard booties.
And funny co-star Romany Malco hit the carpet as well.
Think Like A Man hits theaters April 20th.
Pics: Pacific Coast News