Oprah & The "Red Tails" Cast Go Private In Dallas
Dec 05 | by Natasha
Oprah & Tyler Perry hosted a private screening of George Lucas' movie, Red Tails, at the AMC Theater in Dallas, TX over the weekend. Pics of the cast and Lady O, inside...
At Northpark Center in Dallas, the Red Tails all-star cast of Terrence Howard, director Anthony Hemingway, Elijah Kelley, Tristan Wilds, Nate Parker, Cuba Gooding Jr., Ne-Yo, and more were all in attendance for the private screening.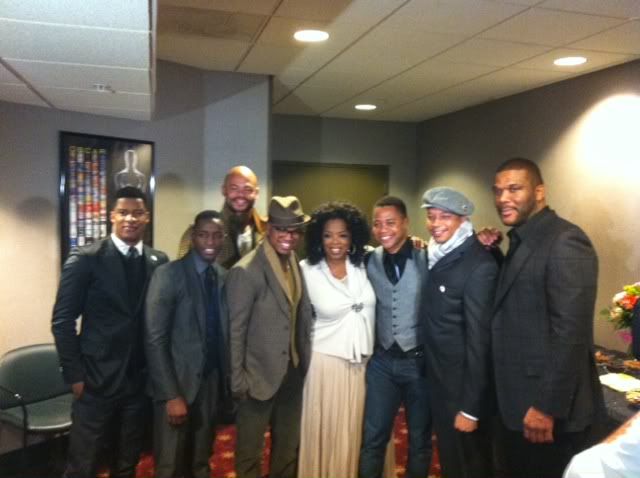 The movie is based on the Tuskegee airmen, a group of African American combat pilots during World War II.
Ne-Yo, who plays Andrew "Smokey" Salem, exchanged tweets with Lady O after the occasion.
Oprah said, "@neyocompound you were really good and added humor to this film. I loved the camaradie with the bro's. Loved meeting you."
And Ne-Yo responded: @Oprah the pleasure was all mine. Thank you so much for being the inspiration you are, and for supporting this movie! You define greatness.
I know what he's framing for his fridge this week.
Check out the latest trailer for the movie:
The movie hits theaters January 20th, 2012.
BONUS: Speaking of Oprah, Wendy Williams is defending the fact Oprah sent her a letter about O and Gayle's friendship Wendy's been saying might be over. Last week, Gayle said O never sent Wendy anything. Wendy says don't make her show the proof. STORY