A certain reality star tied the knot this afternoon...taking advantage of the rare date 11/11/11. Guess who wore this dress to walk down the aisle to the man of her dreams...and why she says she and her man are NOT Kim K. & Kris H....
*UPDATED with official wedding photo*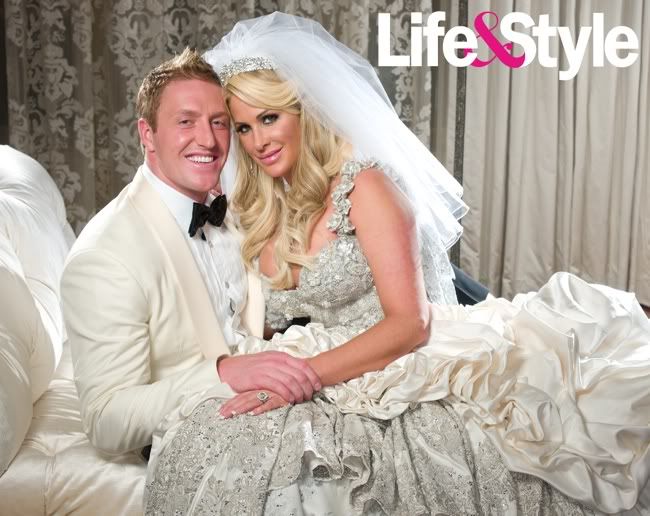 It's "Real Housewives of Atlanta" star Kim Zolciak's wedding day!
"I just remember thinking, this is the day I've waited my whole life for," Kim tells Life & Style. "I really do feel like I'm dreaming."
The dress is a $58,000 pre-owned, handmade Baracci gown made of Duchess satin and embellished with Swarovski crystals, pearls and embroidered lace.
The 33-year-old got engaged to her 26-year-old baby's daddy, Atlanta Falcon Kroy Biermann, last month. And since she needed to walk down the aisle 30 days later (likely for upcoming her spin off reality show), and it's impossible to get a dress made to order in that short amount of time, she copped an extravagant Baracci Beverly Hills dress [same designer Beyonce wore in her "Best Thing I Never Had video] from PreOwnedWeddingDresses.com. The site commented:
Kim purchased her Baracci Beverly Hills gown within 24 hours of it being posted on PreOwnedWeddingDresses.com. And the original owner says Kim was "easy and friendly to deal with, and she didn't think twice about buying my dress."
Kim & Kroy's wedding (it's Kim's secnd marriage and Kroy's first) went down in Atlanta this afternoon. She tweeted yesterday and today:
I want to Thank all of u tweethearts for all the congrats & blessing for our special day tomorrow I read everyone & it means so much! Love u

Beautiful weather! Beautiful day!! I'm walking on a cloud and I'm so grateful!
Kroy tweeted:
Thank you everyone for your early congrats and best wishes!!!@Kimzolciak has made me the happiest man alive!!! 11.11.11
Kim also told people her marriage won't go down like Kim Kardashian's:
"I hate it that Kim's going through what she's going through. It's hard, I mean it is hard to be in the press and have your relationship dissected. It's unfortunate, but Kim and Kroy are not Kim and Kris."

More pics of her dress: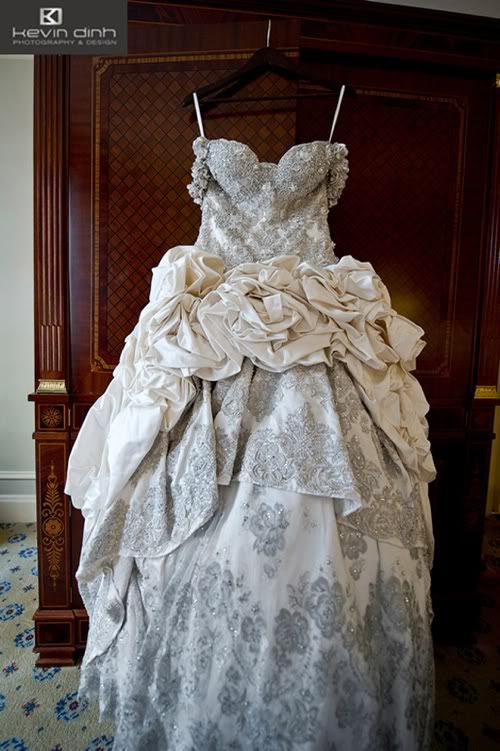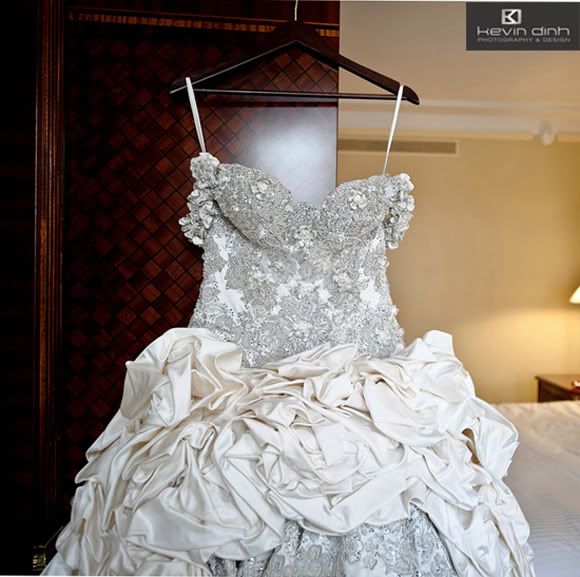 You feelin' it?
Photog: Kevin Dinh Photography/Source: PreOwned Wedding Dresses