Maybe Next Time........Marlo Hampton CHOPPED From "RHOA"
Oct 21 | by _YBF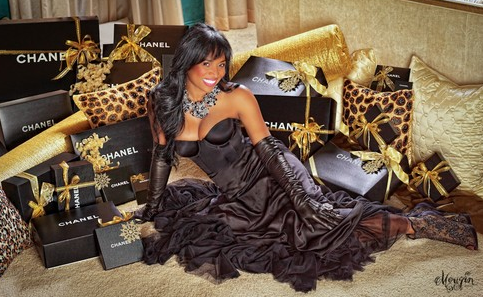 In a shocking new development, it turns out that controversial ex-con Marlo Hampton has not been added to the cast of the "RHOA" after all. A well-place source within the ATL cypher confirms Marlo just didn't pan out. And though no one's saying why, I can imagine Marlo's penchant for slicing up a chick's face didn't sit too well with the ATL cast. Deets inside............
For the past few months, reality tv wannabe Marlo Hampton has been making all the right moves. She's "hosting" events in ATL, appearing on red carpets, making headline posts on the internet and even seems to have a knack for self-promotion.
However, Straight From The A confirmed recently that Marlo's publicity stunts are all smoke and mirrors. The chick didn't make the cut for the "RHOA" so now she is pimping every last opportunity she can get before folks realize she's not a real castmember.
Oh Marlo....what happened?!
It seems that Marlo doesn't project the image of the type of ATL "wife" BRAVO execs have become used too. She's isn't married, doesn't have kids, is not in an interesting relationship and most importantly...she might be dangerous.
You might remember that Marlo Hampton doesn't exactly come to the table with a halo on her head. She's been arrested SEVERAL times and words like "aggravated" "assault" and "weapon" are often closely associated with her name in court documents. One might suspect it's not a good idea to have a ticking time bomb around NeNe and Sheree. Somebody might get checked!
So along with standard reality tv comings and goings, we have to watch until the season airs to find out what really happened...but one thing's for sure...Marlo is out!
SMH....I was really hoping she'd be around long enough to put NeNe in her place.
"RHOA" debuts on November 6 on Bravo.