The Obamas, Monica, Shannon Brown, Gabby Union, Dwyane Wade, & More Hit The Phoenix Awards In D.C.
Sep 25 | by Natasha
All hail the Chief! President Barack Obama and First Lady Michelle Obama made a stunning appearance at Saturday night's Phoenix Awards at the Washongton, D.C. Convention Center to finish out the Congressional Black Caucus Annual Legislative Conference.
Pics of the celebs and politicians who came out to be seen, plus video of the President's stirring speech, inside....
The Obamas hit the stage Saturday night to an elite room of over 3,800 politicians, celebs, lobbyists, businessmen, and more. The president himself was one of the 2011 recipients of the Phoenix Award-an award, according to the CBCF President & CEO Dr. Elsie Scott, that is presented to those whom have made significant contribution to society and symbolizes the immortality of the human spirit.
FLOTUS donned a gorgeous long black sequin skirt with a wide black sash to cinch the waist and a 3/4 sleeve black top. Fabulous.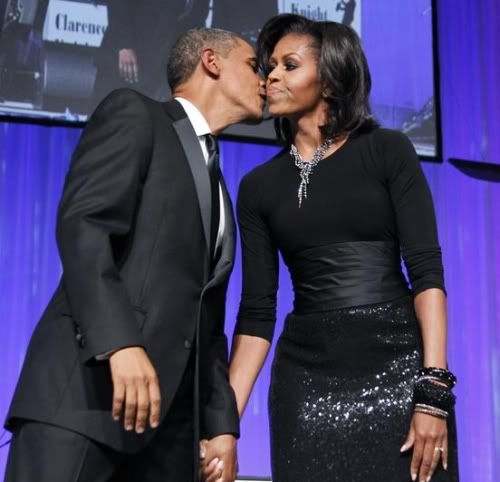 Mr. President, looking dapper in his black suit, gave his speech mainly about the jobs bill and its importance:
Gabby Union was spotted at the dinner with boyfriend Dwyane Wade rocking a long white Rachel Roy dress:
Peep a little raw footage of Gabby & Mr. Wade schmoozing it up.
Monica & Shannon Brown popped up.
Rev. Jesse Jackson kicked it with Cuba Gooding, Jr.


George Foreman was also a 2011 Award recipient.
Dr. Michael Eric Dyson posed it up with the ladies.
The U.S. Surgeon General Regina Benjamin posed with the Congressional Black Caucus Foundation President & CEO, Dr. Elsie Scott.
And at the end of the dinner, The Obamas caused a madhouse when they shook hands with crowd:
Check out the President's speech here:
Fab times.
The Randomness:
1. Deion Sanders refutes reports that he filed from divorce from his wife Pilar. He posted on his Twitter amidst rumors of a split:
Ladies and gentlemen I never address IGNORANCE but I must at this point. I've never filed 4 divorce and hadn't made a statement to ANY media