Will & Jada Pinkett Smith have been laughing off the rumors Jada had an off-screen affair with the couple's good friend Marc Anthony. But despite Jada and Marc receiving the bad news recently that their show "HawthoRNe" got the axe, Marc's clearly taking it pretty well. He was chillin' with Big Willy in the Miami Dolphins sky box tonight.
Pics inside...
There's perks to having part ownership of an NFL team. You can kick it in your own VIP sky suite at the stadium...and bring all your friends with you.
Marc and Will Smith have been awkwardly rumored to be in a love triangle with Will's wife Jada after Marc & Jennifer Lopez announced their divorce. But it looks like things were all gravy tonight as they kiki'd it up together in the suite.
D-Wade also got in on the fun.
Sean Kingston and Fergie and her hubby Josh Duhamel were there as well.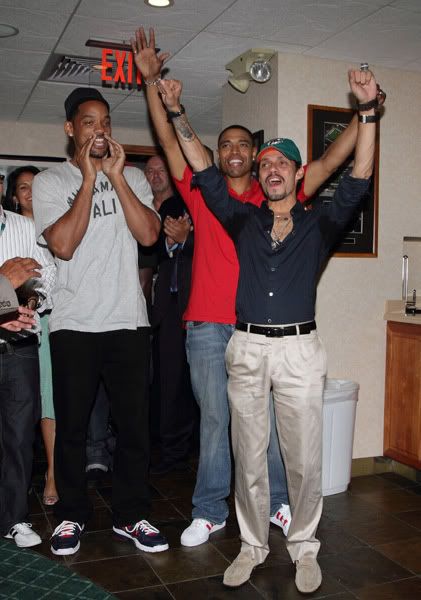 Gotta love that...
Pics via SPLASH
The Randomness:
1. The prequel to "Sex & The City," "The Carrie Diaries," will become a tv show on the CW produced by the "Gossip Girl" producers and Candace Bushnell. Story
2. Comedian Eddie Griffin got married...in a random Vegas ceremony. Story
3. Apparently Ne-Yo has a stalker who has threatened his life and has had to contact the FBI. Story