Venus & Serena Williams Cover HAMPTONS Magazine, Party It Up To Celebrate
Aug 26 | by Natasha
Venus & Serena Williams are rocking the new cover of Hamptons magazine. And they partied it up in NYC to celebrate it. Their full mag cover plus the sisters' party looks, inside...
The Williams sisters rocked all white looks for their pretty black and white cover of the magazine. And they rolled to RdV in NYC to celebrate it last night:
Serena rocked a skin tight black catsuit with sheer panels. While Venus did a purple multicolored short dress.
The girls chatted about their memories of the U.S. Open. Serena said: "I remember Pete Sampras playing in 1990; I was watching on television, and I remember that was the first year he won a Grand Slam. He was really young, and they were talking about how good he was going to be. He was wearing such short shorts; they were almost like a bikini. [Laughs]
I definitely thought Pete was very handsome, but around 1996 I thought he was really hot—but I also think everybody is hot, so I don't know if that is saying much."
Ha!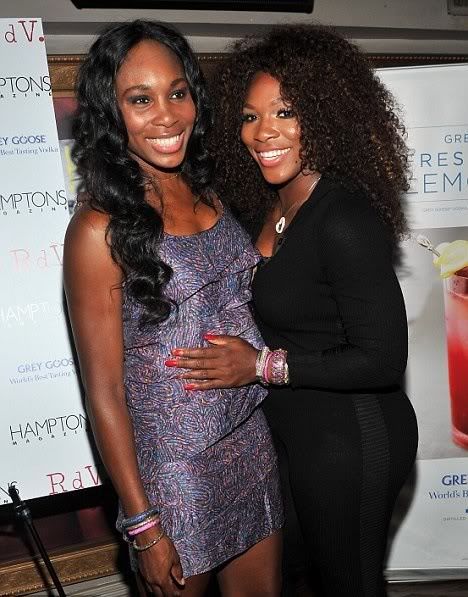 Venus also revealed her fashion plans for the Open. She says: 'The US Open this year is all about the little black dress, and I always put zippers in my dresses, so there will be a zipper down the back. Because I don't ever wear black in the daytime, it will be opposing colors. Last year there were three different styles; this year it will be simple because it is just one, but in different colors.'
Congrats to the ladies!