R.I.P. BABY GIRL: Celebs Reflect On Aaliyah's 10 Year Anniversary
Aug 25 | by Natasha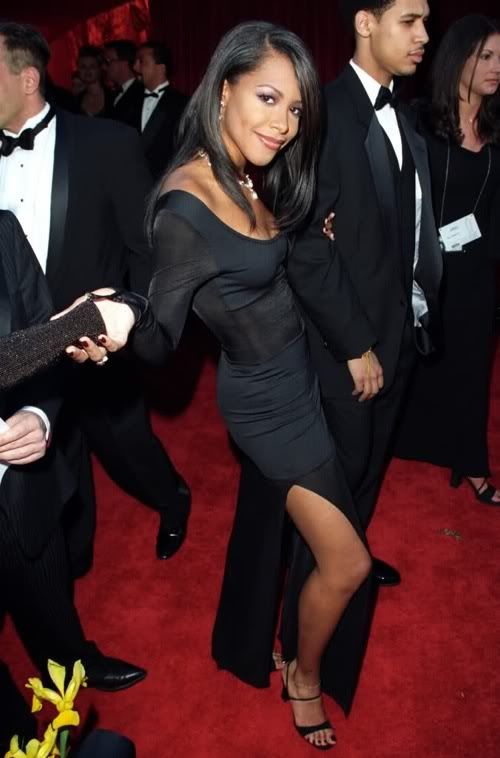 It's been 10 years since Aaliyah lost her life way too soon. The songbird was the voice for teens and young women everywhere--with a style to match. When I was in high school, Aaliyah influenced everything the girls did--from the tomboy with a feminine appeal look, to the "I'm coming into my own" but "I'm still leaving much to the imagination" red carpet and photo shoot looks, to the music that every sweet girl dealing with powerful love, mess-ups, and break ups could relate to.
Check out how celebs say Aaliyah affected their lives inside...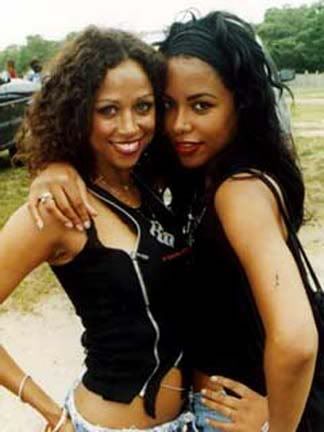 Aaliyah and good friend Stacey Dash
Aaliyah and her best friend Kidada Jones
Celebs and Aaliyah's best friends she considered family tweeted their reflections and we rounded up what they had to say:
Missy Elliot: Aaliyah til this very day u r still in Your own Lane! Ure music is Timeless! We miss u! #WeLoveuAaliyah!
Timbaland: #ripaaliyah miss you babygirl
Mary J Blige: Good morning twitter fam. Let's all take a moment to remember our sister Aaliyah!!! #ripaaliyah
Uncle Rush: Aalliyah, we miss you baby girl
Drake: RIP Baby Girl...in my ear at every show letting me know the next move I should make. Love you.
Mashonda: I will never forget that evening we sat down with Aaliyah in 1999.It was a creative meeting for her new album. 2 weeks later "Gotta Man"
LaLa: She was so far ahead of her time...ur music & ur spirit still lives on..may u continue to rest in peace..we LOVE u..we CELEBRATE u #Aaliyah
Lil Duval: For my generation Aaliyah was to women what 2pac was to men. #ripaaliyah
Big Tigger: A #Toast to our #Angel watching over us all…. RIP Aaliyah!!! Missing you a decade later!!! RT RT http://pic.twitter.com/rgyw2L1
Tika Sumpter: Aaliyah you were #Oneinamillion serially. #RIP loved your spirit.
Angela Yee: I can't take @cthagod humping the air to the aaliyah mix right now
Michelle Williams: RIP AALIYAH! Loved and truly missed!
KeKe Palmer: I miss Aaliyah so much.
Alesha Renee: I was working at AGACI2 @the Galleria in Hou when I heard about Aaliyah. I clocked out n went hm crying. I dreamed. Of mtg her She was majic
AJ Calloway: Aaliyah Dana Haughton - One of the most beautiful spirits I have encountered. We are still missing u...
Monique Jackson ("Mo" from "The T.O. Show"): I was in the car with @Ludacris on our way to a Power 106 event when we got the news Aaliyah had died. She was One in a Million.
Ciara: AALIYAH...A PRECIOUS SPIRIT...ONE OF A KIND...CAN NEVER BE REPLACED

Stephen Hill: This Aaliyah show on BET tonight at 8pm. Her story from those who KNOW it. It's long over due...but right on time.
Tisha Campbell Martin: Go to simplytisha.com homepage now, and check out song by me "The First time..." Think of Aaliyah... S/O to GoodRandomness for the tribute
Royce Reed: Now Playing: Aaliyah...All day Every Album
Maxwell: AALIYAH REST IN PEACE
Q Tip: RIP 2 my girl aaliyah. Man seems like yesterday.
Affion Crockett: When I met Aaliyah, she was so HUMBLE. She spoke 1st, no DIVA ish.. Beautiful person. #Respect
Lil Kim: #RIPAaliyah My Sister :(
Frank Ocean: RIP to the Beautiful and Talented Aaliyah
Sole: RIP Babygirl #Aaliyah
Wale: some #TT are way too disrespectful ...fuck whoever created this....God Bless the Queen Aaliyah
Mia X: Remembering Aaliyah 2day her voice and beauty Inside Out may she rest in peace she was truly an asset to our culture
A few of our fave vids: