Frank Ocean Rocks the Cover Of FADER+Odd Future Readies To Drop A Book
Aug 09 | by Natasha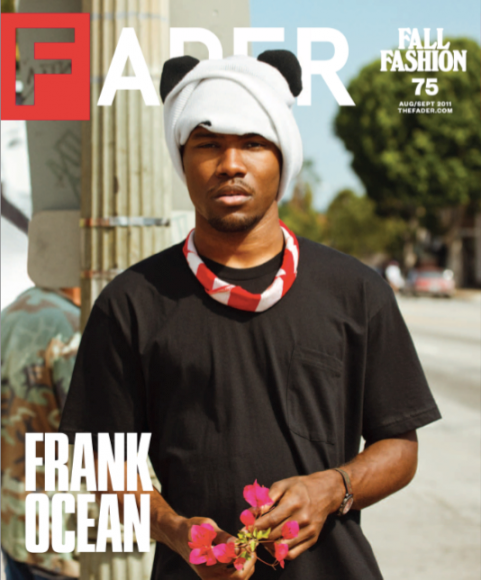 Frank Ocean of Odd Future is making his name more known than ever these days. From being 1 of only 3 artists to nab a feature on the Watch The Throne album...to beefing with Chris Brown on Twitter...to writing and producing for some of the biggest names in hip hop (including himself), it may be about time we get to know him a bit better.
Mr. Ocean's new FADER mag cover and updates on Odd Future inside...
The New Orleans native (5-0-4 STAND UP!!) moved to Cali after Hurricane Katrina. And things have only taken off since. Frank Ocean is 1/11 of Odd Future, but he's one of the most recognized. The "Novacane" singer revealed a bit about himself in the new Fall Fashion issue of FADER:
When he was nine, Frank Ocean's godfather subscribed him to Robb Report, a magazine for the ultra-rich. Less interested in fiduciary smarts, it's a catalog of conspicuous consumption, highlighting tropical vacations, invaluable antiques and, as Ocean came to know, really expensive cars. Though he comes from a middle class family, he obsessively read the magazine's classified ads, fixating on exorbitantly priced used Bentleys and Maybachs. "I would just fall in love with all their cars. That was the start." Ocean, who was born Christopher Breaux (and goes by Lonny to friends), downscaled his material desires, and when he was 13, began going door-to-door, detailing cars for cash. "I would bring all my supplies. Literally, it was like a movie, I had a wagon, those long red wagons, like a Radio Flyer-type wagon, and I used to buy my own soaps."
Nice. And speaking of Odd Future, the group is set to release their first book Golf Wang. It drops November 15th and Rap Radar has the deets.
Source: Fader/RJ Shaugnessy