Mathew Knowles Says He & Beyonce No Longer Speak After Theft Allegations & Firing, Says Roc Nation Is Too Involved
Jul 15 | by _YBF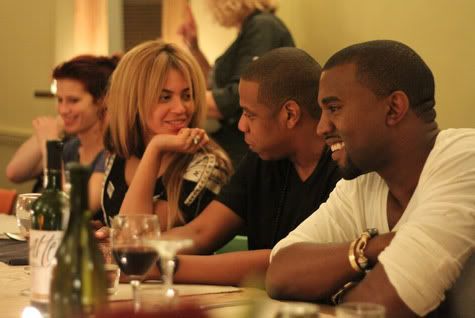 Mathew Knowles is officially speaking out about the theft allegations that he says have caused a severe rift between he and his superstar daughter Beyonce.
Get the deets on why Pappy Knowles says industry folks (namely Jay-Z's company Roc Nation) have driven a wedge between he and his first born inside...
While a brand new pic of Beyonce in the studio working on Watch The Throne with her hubby Jay and Kanye just surfaced (above), Mathew Knowles is talking about his split with his eldest daughter.
Pops originally made it seem as though Beyonce firing him as manager was part of a larger business strategy on both their parts. But now, more details are leaking about the shakeup in the Beyonce brand, which Mat says has caused he and Bey to stop speaking.
Mathew recently filed papers in a Texas court alleging that members of Beyonce's camp, which includes Columbia Records, Live Nation and Roc Nation, have made "negative comments about [him]."
"We absolutely have not taken any money from Beyonce, and all dollars will be accounted for," he told The Associated Press. "In no way have we stole money. Again, this about the people who have made these claims — they have to come into the light."
Mathew says the culprits (Live Nation--who her hubby inked a serious multi-year deal with himself) convinced Beyonce to hire a law firm to audit her finances so they could drive and wedge between him and his daughter and take over her career.
He said Beyonce's current team is a hybrid of her old team and Roc nation's people. And Live Nation and Roc Nation have the most to gain from taking over her career. He also mentioned that since Beyonce has changed management, her new album has not produced any breakout singles, although it is selling well. He hints that maybe she is proving the power of radio is not needed to sell a record when you actually have talent.
He stressed to the AP, the reason for his lawsuit is to restore his professional integrity.
The Randomness:
1. Fans lash out after Lil' Kim is removed from Monica's latest single. Story.