Chris Brown LITERALLY Shuts Down Rockefeller Center For "Today Show" Summer Concert Series!
Jul 15 | by Natasha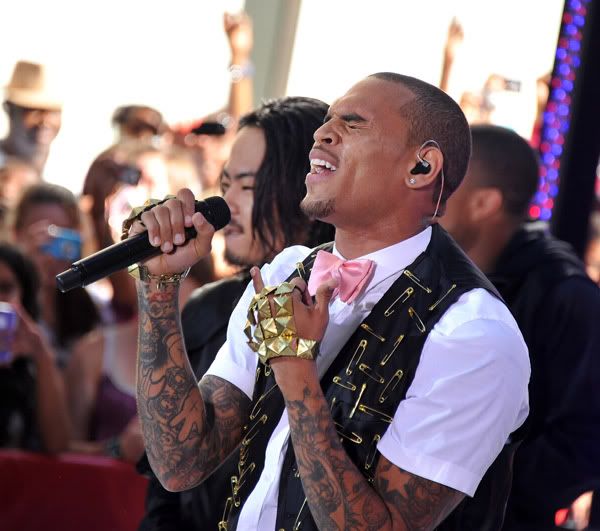 A record breaking 18,000 Chris Brown fans shut down Rockefeller Center this morning as Breezy stormed the stage for the "Today Show" Summer Concert Series.
In case you missed it, we've got videos of his hot performances inside...
With fans camping out since Wednesday night, and over 18,000 busting at the seams this morning, The New York City Police Department closed off 48th and 49th street to vehicular traffic for the first tie in years. Breezy brings 'em out indeed.
He tweeted last night: "So excited to give my fans a free show tomorrow morning. Gonna be fun!!!!!...Thx to all my fans who are outside the hotel right now! Love y'all and I appreciate the plaque."
And what he said about his fans just minutes ago: "love teambreezy so much.. Wish the concert was longer today! Thx you Today Show for your everything Love ya!...18 to 20 thousand people showed up at 7 this morning! That's crazy!! Biggest crowd the today show ever had!...I love my fans!!!! It is really truly an honor and a blessing to create music and evoke emotion for positivity. Can't live without my fans."
Chris hit the stage in a black suit, pink bowtie, gold tufted metal gloves, and a sparkling gold vest. He opened up with "Forever," then "She Ain't You," "Yeah 3x," then closed it out with a medley and the Dougie. And he looked like he had the time of his life. Here's videos (we will update with more as they become available):
"Yeah 3x":
"Forever":
"She Aint You":
There was no interview done with the "Today Show" co-hosts. And that may have been for the best. But here's video of the mob of fans:
Great performance Chris! More pics: