Nicki Minaj PUNCHED By A Man At Dallas Hotel....Claims They're Not In A Relationship...And She's NOT Pressing Charges!
Jul 12 | by Natasha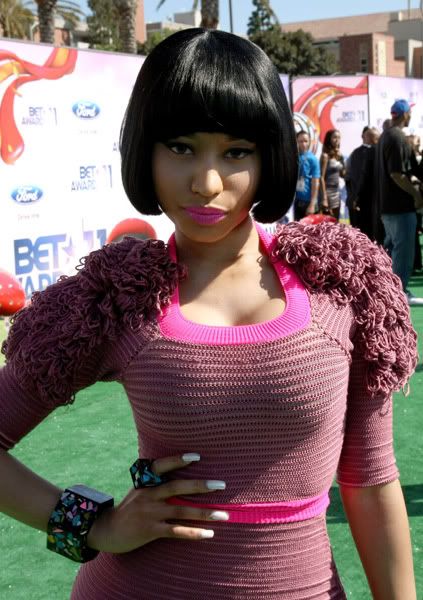 Something ain't sounding all the way right. Nicki Minaj was allegedly punched in the lower lip by a man after a hostile argument at a Dallas hotel yesterday.
And she's NOT pressing charges for some reason. Deets inside....
TMZ reports Nicki got into a heated argument with an "unidentified man"...who she confirms she was staying with...while at poolside at a hotel in Dallas yesterday. Apparently, the verbal smackdown led to a physical one once the two got back tot he room. And the man punched Nicki in her lower lip.
Nicki told a hotel employee to call the police before both she and the "unidentified man" headed to their room after a big argument poolside:
Nicki told a hotel employee to call police ... while the man went to their hotel room. Nicki followed soon after.

When cops and paramedics arrived, Nicki told authorities their poolside fight continued inside of their room ... and the man hit her in her lower lip.

The man had already left the scene when cops arrived ... but Nicki insisted she did NOT want to press charges. Nicki also claimed she was NOT in a relationship with the alleged attacker.
What in the HELL? Now I know they're saying this man is "unidentified." And Nicki claims she and the man are not a couple. But they're close enough to share a room together right? Hmmm.
And...thanks to our sleuth skills...we learned her rumored boyfriend and hype man Safaree was indeed "poolside" yesterday as well. He even tweeted about it saying, "Poolside thanking god to be alive... AHHHHHHHHHHH....
And we all know she doesn't like to claim the two are a couple despite the fact everyone close to them says they are. But the real question here is....what part of the game is this when a chick who claims to be the hardest Queen Bee of all that is Holy lets ANY man touch her...and she doesn't press charges? We've seen this scenario many-a-times. What's REALLY hood here?
Gurrrrl.....